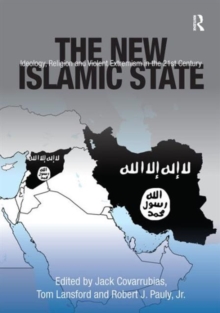 The New Islamic State : Ideology, Religion and Violent Extremism in the 21st Century
Paperback / softback
Description
The rise of the Islamic State has dramatically forced a recalculation of political order and security in the Persian Gulf and broader Greater Middle East by the United States and its allies and adversaries, including, most notably, Iran, Israel and Saudi Arabia.
Since the Arab Spring of 2011, the Islamic State has altered the military balance in the Syrian intra-state conflict and captured significant territory in Iraq. Its military successes has attracted foreign fighters from more than 100 countries, drawn in some cases by a sophisticated recruitment strategy that effectively combines a jihadist message with a social media outreach program targeting vulnerable Muslim populations in the region and the West.
The Islamic State has prompted renewed American and allied military intervention in Iraq and Syria, and complicated the US relationship with its Iranian adversaries. The New Islamic State examines the rise of the religious extremist organization from the ashes of al-Qaeda in Iraq to its current efforts in Syria and Iraq and is designed to provide a comprehensive overview of the Islamic State, its effects on the Persian Gulf and Greater Middle East, and the response of both regional and great powers.
The book is suitable for academics, policymakers and the general public.
Free
Standard Delivery

Within the UK