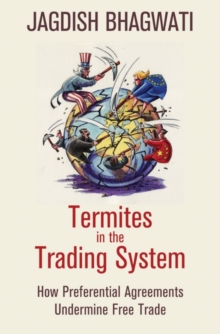 Termites in the Trading System : How Preferential Agreements Undermine Free Trade
PDF
Information

Description

Other Formats
Description
Jagdish Bhagwati, an internationally renowned economist known for his insightful analyses and elegant writing, here shines a critical light on Preferential Trade Agreements, revealing how the rapid spread of PTAs endangers the world trading system. Preferential Trade Agreements, many taking the form of Free Trade Agreements, now number over 300 and are rapidly increasing.
Bhagwati reveals how these agreements have recreated the unhappy situation of the protectionist 1930s, when world trade was undermined by discriminatory practices (today, ironically, as a result of a misdirected pursuit of free trade).
The world trading system is definitely at risk again, the author argues, and the danger is palpable.
Indeed, PTAs have created a chaoticsystem of preferences that has destroyed the principle of non-discrimination in trade.
The trading system today is characterized by a blizzard of discriminatory barriers, each designed to favor some specific trading partner, so that we have what Bhagwati has called the "spaghetti bowl" problem. Andwhile the big firms in the big countries can cope with the chaos, though at a cost, the author shows that small countries and small exporters are seriously handicapped.
He also examines how FTAs are typically tied to extraneous issues such as openness to capital flows and inappropriate labor standards, so that the weaker nations, negotiating one-on-one with stronger nations, are forced to accept harmful demands unrelated to trade.
Finally, the book warns that getting to multilateral free tradefrom the morass of PTAs will be almost an impossible task-like building a mansion from different-sized bricks.
Preferential trade agreements, Bhagwati concludes, are not building blocks but stumbling blocks on the road of free trade.
In Termites in the Trading System, he illuminates this growing threat to the world trading system.
Acclaim for In Defense of Globalization:"If Mr. Bhagwati doesn't get a much deserved Nobel Prize for economics, he should get one for literature.
His writing sparkles with anecdotes and delightful verbal pictures."-New York Sun "One of the world's leading international trade theorists....
Accessible and clearly argued. There is, one might say, a wealth of material on every page."-The Wall Street Journal"An outstandingly effective book....
Until further notice In Defense of Globalization becomes the standard general-interest reference, the intelligent layman's handbook, on global economic integration."-The Economist
Information
Format:

PDF

Pages:

160 pages, halftones and figures

Publisher:

Oxford University Press Inc

Publication Date:

10/07/2008

Category:

ISBN:

9780195331653