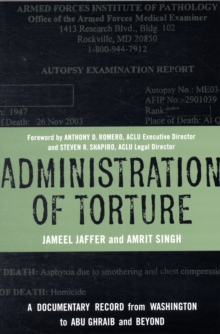 Administration of Torture : A Documentary Record from Washington to Abu Ghraib and Beyond
Paperback / softback
Description
When the American media published photographs of U.S. soldiers abusing prisoners at Abu Ghraib, the Bush administration assured the world that the abuse was isolated and that the perpetrators would be held accountable.
Over the next three years, it refined its narrative at the margins, but by and large its public position remained the same.
Yes, the administration acknowledged, some soldiers abused prisoners, but these soldiers were anomalous sadists who ignored clear orders.
Abuse, the administration said, was aberrational-not systemic, not widespread, and certainly not a matter of policy. The government's own documents, obtained by the American Civil Liberties Union, tell a starkly different story.
They show that the abuse of prisoners was not limited to Abu Ghraib but was pervasive in U.S. detention facilities in Iraq and Afghanistan and at Guantanamo Bay.
Even more disturbing, the documents reveal that senior officials endorsed the abuse of prisoners as a matter of policy-sometimes by tolerating it, sometimes by encouraging it, and sometimes by expressly authorizing it. Records from Guantanamo describe prisoners shackled in excruciating "stress positions," held in freezing-cold cells, forcibly stripped, hooded, terrorized with military dogs, and deprived of human contact for months.
Files from Afghanistan and Iraq describe prisoners who had been beaten, kicked, and burned.
Autopsy reports attribute the deaths of those in U.S. custody to strangulation, suffocation, and blunt-force injuries. Administration of Torture is the most detailed account thus far of what took place in America's overseas detention centers, including a narrative essay in which Jameel Jaffer and Amrit Singh draw the connection between the policies adopted by senior civilian and military officials and the torture and abuse that took place on the ground.
The book also reproduces hundreds of government documents--including interrogation directives, FBI e-mails, autopsy reports, and investigative files--that constitute both an important historical record and a profound indictment of the Bush administration's policies with respect to the detention and treatment of prisoners in U.S. custody abroad.
Information
Format:

Paperback / softback

Pages:

456 pages

Publisher:

Columbia University Press

Publication Date:

20/03/2009

Category: Human rights
ISBN:

9780231140539
Free
Standard Delivery

Within the UK