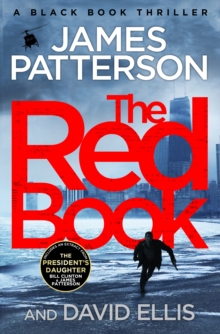 Information

Description

Other Formats
Description
The highly-anticipated sequel to Sunday Times bestseller The Black Book___________________________Detective Billy Harney exposes an evil lurking deep within his city - but it also brings his own past demons to light... To Billy Harney, the newest member of Chicago PD's elite strike force, getting shot in the head, stalked by a state's attorney, and accused of murder by his fellow cops is all part of breaking a case. So, when a drive-by shooting on the Chicago's West Side turns political, he doesn't shy away from leading the investigation. As the easy answers prove to be the wrong ones, Harney's quest to expose the evil that's rotting the city from the inside out takes him to the one place he vowed never to return to: his own troubled past. ___________________________INCLUDES AN EXTRACT FROM THE PRESIDENT'S DAUGHTER, BY BILL CLINTON AND JAMES PATTERSON - AVAILABLE NOW TO PRE-ORDER___________________________Readers think The Red Book is one of James Patterson's best ever thrillers:'The book was full of twists and turns, exciting to read, and just highly enjoyable.''One of the best books by James Patterson that I have read, and I've read them all.''Devoured this one.
It was great. I actually gasped out loud in a few places.''It kept me on the edge of my seat.
I didn't actually want this one to end.''A great thriller with lots of twists and turns.
I couldn't put it down!''This is a very well-written thriller, with a clever plot and multiple characters.
Guarantee you won't want to put this down once you start reading.''The perfect police detective novel.''Another read by James Patterson which had me gripped and desperate to know what happens next!
Brilliant.''The Red Book is everything you expect from a James Patterson book: fast-paced, gripping, twists and turns at every corner.''A definite page-turner which I guarantee you won't want to put down, another gem from Patterson.''I genuinely don't understand how one author with so many books under his "pen" can still manage to deliver such high quality and inventiveness!''A page-turner with a twisty plot and great characters.''I was hooked - can't give it anything but five stars.
I'm just disappointed it's now finished.''The storyline was fabulous and I loved the characters.
So many twists and turns.''Fans will love it, and if you're not yet a fan then you will be after reading.''Absolutely love a James Patterson book and this one certainly didn't disappoint.
Highly addictive read I'd recommend to anyone.''Love all the twists and turns.''Brilliantly intense.''To say this book is intense is an understatement.
It is one of the most enjoyable reads I have had in a long time.''What a read!''Unputdownable.''Fantastic read.
I have been completely unable to put this one down.'
Information
Format:

Hardback

Pages:

416 pages

Publisher:

Cornerstone

Publication Date:

01/04/2021

Category:

ISBN:

9781529125375