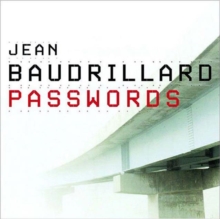 Description
"It is paradoxical to form a retrospective overview of an oeuvre that never sought to be prospective...Doubtless one should put oneself ion the position of an imaginary traveller who came upon these writings as if they were a lost manuscript and, for want of supporting documents, subsequently strove to reconstitute the society they describe." In his analysis of the deep social trends rooted in production, consumption, and the symbolic, Jean Baudrillard touches the very heart of the concerns of the generation currently rebelling against the framework of the consumer society.
With the ever-greater mediatization of society, Baudrillard argues that we are witnessing the virtualization of our world, a disappearance of reality itself, and perhaps the impossibility of any exchange at all.
This disenchanted perspective has become the rallying point for all those who reject the traditional sociological and philosophical paradigms of our age. Passwords, in the spirit of Gilles Deleuze's Abecedaire, offers us twelve accessible and enjoyable entry points into Baudrillard's thought by way of the concepts he uses throughout his work: the object, seduction, value, impossible exchange, the obscene, the virtual, symbolic exchange, the transparency of evil, the perfect crime, destiny, duality, and thought.
Free
Standard Delivery

Within the UK