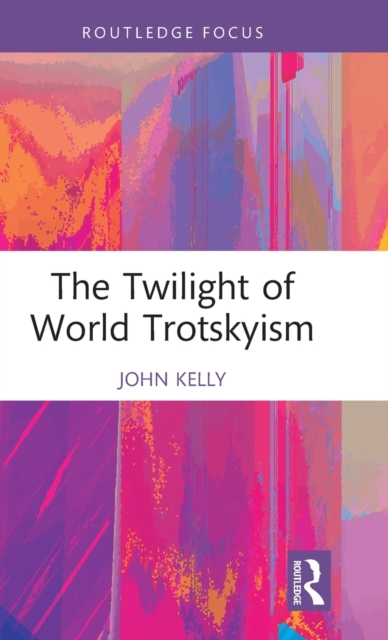 The Twilight of World Trotskyism
Hardback
Information

Description

Other Formats
Description
The Twilight of World Trotskyism analyzes the reasons behind the historic failure of the Trotskyist movement around the world. The book begins this assessment by briefly recapitulating the origins of Trotskyism, as a political current within the communist movement, and elaborating its major elements, before describing the historical development of Trotskyism in the four countries where it has sunk the deepest roots and which house the clear majority of the world's Fourth Internationals: Argentina, Britain, France and the USA.
It then proceeds to map the current state of the global Trotskyist movement.
Whatever their current size and status, Trotskyist organizations aspire to become mass political parties and lead revolutionary seizures of power.
It is therefore appropriate to examine them through the metrics applied to mainstream parties, namely organization, membership and political influence. The author looks at the dynamics of the Trotskyist movement, focusing in particular on the supposedly harmful effects of the communist movement before then turning to examine the role of Trotskyist organizations in the many revolutionary situations that have appeared since the 1920s and in the various 'cycles of protest' that have occurred in the latter half of the 20th century and the early years of the 21st century.
The final section examines the two success stories frequently cited in Trotskyist literature, namely the cases of Bolivia and Sri Lanka.
The book concludes by setting out and examining a wide variety of explanations for the chronic and sustained weaknesses of the Trotskyist movement, including its flawed appraisals of contemporary politics and economics, ultra-radical programmes and policies, failures in understanding the dynamics of protest and the baleful legacy of Soviet communism.
It is argued that these weaknesses are rooted in Trotskyist doctrine and are therefore integral, not peripheral, features of world Trotskyism. This volume will be essential reading for activists and scholars interested in the transnational history and politics of the radical left.
Information
Format:

Hardback

Pages:

152 pages

Publisher:

Taylor & Francis Ltd

Publication Date:

17/10/2022

Category:

ISBN:

9781032350080
Information
Format:

Hardback

Pages:

152 pages

Publisher:

Taylor & Francis Ltd

Publication Date:

17/10/2022

Category:

ISBN:

9781032350080