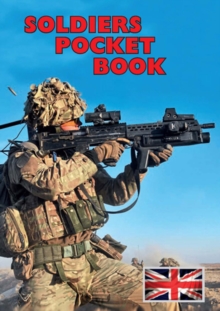 Soldiers Pocket Book
Paperback
Description
Soldiers Pocket Book by John Harris & Rupert Godesen Soldiers Pocket Book has updated becoming the 10th edition of the publication.
The concept of the book remains the same, namely, an aide memoire for regular and reserve soldiers covering the basics of kit, weapons, webbing packing, Bergan packing, first aid, military law and duties.
The book is clearly arranged into chapters breaking the knowledge contained into well laid out and digestible sections.
There is much that is not covered in the book and obviously it is not an alternative to phase 1 training but it certainly would be of benefit to someone at the end of phase 1 or to a reservist.
Perhaps its strongest effect may be in helping reduce skill fade over time.
The most interesting section, for me, is the discussion about duty, loyalty, and discipline.
These are all very unfashionably terms in today's society, as the authors quickly point out, but they are also part of why you are reading this review now.
If you have ever been in the services you are, by definition, rather unfashionable in today's civil focused world but have a deep understanding of duty, loyalty and discipline whether you like it or not. Throughout the book's updating new diagrams and colour images covering the latest vehicles in service, with a simple note on each vehicle.
There are also tips on the purchase of the type of shiny object which will make a soldier's life easier such as collapsible rubber drinking mugs.
One section that I cannot recommend strongly enough is map reading.
A beautiful summary of everything anyone could ever need to navigate with a map in all climates and conditions.
The explanations are in simple, clear terms are used and the result is a easily understood explanation of a subject which so many find hard to understand.
Other areas covered which are of use outside the defined world of the army are the sections on personal security especially when travelling and first aid making this book a valuable pocket resource at both work and play.
With several sister publications from the same publisher such as the Army Cadets Pocket Book, Military Pocket Books team have carved themselves a defined space in the specialist publishing world providing high quality books for demanding audiences.
Information
Format:

Paperback

Pages:

296 pages, 100

Publisher:

Military Pocket Books

Publication Date:

26/04/2016

Category: Land forces & warfare
ISBN:

9781874528258
Free
Standard Delivery

Within the UK