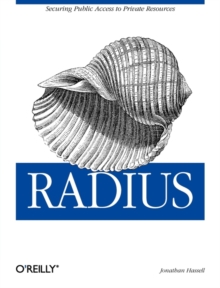 Description
Remote Authentication Dial-In User Radius (RADIUS) is a widely deployed protocol that enables companies to authenticate, authorize and account for remote users who want access to a system or service from a central network server.
This text is a detailed guide to the underpinnings of RADIUS protocol, with particular emphasis on the utility of user accounting.
Author Jonathan Hassell draws from his extensive experience in Internet service provider operations to bring practical suggestions and advice for implementing RADIUS.
He also provides instructions for using an open-source variation called FreeRADIUS.
This book covers RADIUS completely, from the history and theory of the architecture around which it was designed, to how the protocol and its ancillaries function on a day-to-day basis, to implementing RADIUS-based security in a variety of corporate and service provider environments.
If you are an ISP owner or administrator, corporate IT professional responsible for maintaining mobile user connectivity, or a web presence provider responsible for providing multiple communications resources, you'll want this book to help you master this widely implemented but little understood protoc
Free
Standard Delivery

Within the UK