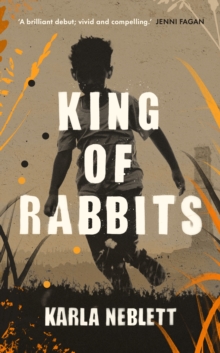 Information

Description

Other Formats
Description
'A brilliant debut; vivid and compelling.' JENNI FAGAN'You won't be able to predict the outcome of King Of Rabbits ...
It's a powerful and tragic read, making a profound statement about how important access to opportunities can be, and how much of an impact your childhood and background can have on your future ...
It's a brilliantly crafted story about class and race, and the failure of society to catch children who fall through the cracks.' Independent'Neblett has drawn a really interesting character in Kai ... there was never a point when I didn't want to keep reading' BookmunchChosen as Book of the Month by Afrori BooksFeatured on BBC Radio 4: Open Book_________________________________________________Kai lives in a mixed-race family on a rural council estate in Somerset where he and his three older sisters have three different dads, and his mum is being led into crack addiction by his petty-thief father.
He idolises his dad, adores his friend Saffie and the school rabbit Flopsy, and is full of ambition to be the fastest runner in Middledown Primary.
He and Saffie build a secret world of friendship in the school garden.
But Kai's natural optimism, imagination and energy run up against adult behaviour he doesn't understand: his parents' on-and-off romance, his dad's increasing addiction and the limitations of poverty.
Despite the people who try to look out for him, notably his loving Nanny Sheila and his big sister Leah, Kai's life drifts towards a tragedy from which it is hard for him to recover.
The refuge he seeks in his love of nature, and the wild rabbits who have made their burrows in the woods, may not be refuge enough. King of Rabbits is a beautiful, painful, at times funny novel about how a little boy perceives the world, and how his environment leads him on a path to manhood he doesn't want to follow; it is a story of class, race, and how our society fails working-class boys. _________________________________________________
Information
Format:

Hardback

Pages:

336 pages

Publisher:

Cornerstone

Publication Date:

25/03/2021

Category:

ISBN:

9781785152481