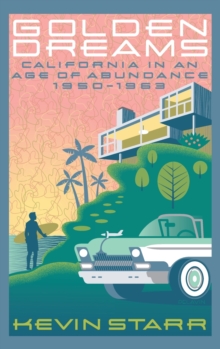 Golden Dreams : California in an Age of Abundance 1950-1963
Hardback
Information

Description

Other Formats
Description
A narrative tour de force that combines wide-ranging scholarship with captivating prose, Kevin Starr's acclaimed multi-volume Americans and the California Dream is an unparalleled work of cultural history.
In this volume, Starr covers the crucial postwar period-1950 to 1963-when the California we know today first burst into prominence. Starr brilliantly illuminates the dominant economic, social, and cultural forces in California in these pivotal years.
In a powerful blend of telling events, colorful personalities, and insightful analyses, Starr examines such issues as the overnight creation of the postwar California suburb, the rise of Los Angeles as Super City, the reluctant emergence of San Diego as one of the largest cities in the nation, and the decline of political centrism.
He explores the Silent Generation and theemergent Boomer youth cult, the Beats and the Hollywood "Rat Pack," the pervasive influence of Zen Buddhism and other Asian traditions in art and design, the rise of the University of California and the emergence of California itself as a utopia of higher education, the cooling of West Coast jazz,freeway and water projects of heroic magnitude, outdoor life and the beginnings of the environmental movement. More broadly, he shows how California not only became the most populous state in the Union, but in fact evolved into a mega-state en route to becoming the global commonwealth it is today. Golden Dreams continues an epic series that has been widely recognized for its signal contribution to the history of American culture in California.
It is a book that transcends its stated subject to offer a wealth of insight into the growth of the Sun Belt and the West and indeed the dramatic transformation of America itself in these pivotal years following the Second World War.
This is the seventh volume in Kevin Starr's widely acclaimed and monumental history of California-Americans and the California Dream. It covers the crucial postwar period-1950 to 1963-when much of what has become California as we know it today was brought into existence. As in previous volumes, Starr brilliantly illuminates the dominant economic, social, and cultural forces in California in these years.
Among the topics discussed are the suburbanization of California, with emphasis on the SanFernando Valley, Orange County, the San Francisco Peninsula, and Marin County; life style and the novels that reflected it; the rise of San Diego; the "Golden Age of San Francisco," with its cultural roots and influential minorities; Los Angeles, the Chandlers, the Music Center, the Dodgers, and itsspecial lifestyle; defense industries; Cold War "think tanks," Palo Alto and the creation of the transistor and later the computer industry; the new California "Multiversity" and its director, Clark Kerr; public works, with special emphasis on the burgeoning of freeways; and cultural events and happenings, including jazz, the "Beats," the Hollywood "rat pack" (Sinatra and friends) and the flowering of Palm Springs, youth culture, and "Zen California."
Information
Format:

Hardback

Pages:

576 pages, 50 black and white halftone illustrations

Publisher:

Oxford University Press Inc

Publication Date:

10/09/2009

Category:

ISBN:

9780195153774