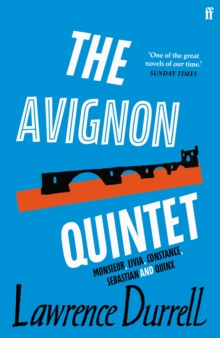 The Avignon Quintet : Monsieur, Livia, Constance, Sebastian and Quinx
Paperback / softback
Information

Description

Other Formats
Description
The Avignon Quintet gathers Lawrence Durrell's five kaleidoscopic, Booker Prize-nominated novels - orbiting around the South of France in World War II - into one epic modern classic, one of 'the greatest novels of our time' (Sunday Times). 'Durrell is a magician. He juggles with glittering words, he conjures up "cloud capped towers, gorgeous palaces and solemn temples," he entrances, intrigues and impresses.' The TimesAvignon: the kingdom of kings and Popes, capital of the historic South of France, heart of legendary Provence.
The entwined lives of a group of friends - and lovers - are transformed forever by the outbreak of World War II.
But their dramatic present only plunges them further into the darkness of an ancient past, as they become entangled in buried plots, gnostic cults, religious rituals, and a mysterious hunt for hidden Knight's Templar treasure.
From Hitler's Europe to the medieval world, French chateaus to Egyptian deserts, The Avignon Quintet is an epic symphony of ecstasy and terror, madness and memory, passion and death.
Consisting of five majestic novels - Monsieur, Livia, Constance, Sebastian and Quinx - it is a wild, wise masterpiece that could only be written by the literary master of his century, Lawrence Durrell. 'Entrancing ... Swooning ... Charged with Durrell's strange magic.' Guardian'An enigmatic and secretive work, a cluster of dark passages and gaudy treasure-filled caves ...
Inventive gusto and fictive extravagance ... Sensational.' London Review of Books'Splendid ... Reckless all-or-nothing writing.' Sunday Telegraph 'A virtuoso, capable of extraordinary feats.' New York Times 'Pungent and teasing ...
There is some insidious power in him that keeps one reading.' ObserverWhat readers are saying:'As if Proust had written Raiders of the Lost Ark ...Templars, gnostics, handsome princes, asylums, madness, Freudians, southern France, Egypt, ancient tombs, castles, exotica, erotica, incest, ghosts, gypsies, ascetics, spies, Nazis, secret societies, bordellos, feasts, Nubian lesbians, assassins disguised as nuns, literary doppelgangers, convents, hidden treasure, suicide, and art.''Mystery, love, incest, war, espionage, gypsies, mysticism, secret rituals: a masterful writer.' 'Magnificent ...
An incredible level of writing that should be experienced by everyone who loves modern literature.''A masterpiece ...
Unlike anything I've ever read.' 'The master at his peak.' 'The writing is spectacular, unlike anything today.' 'Deeply complex, very clever use of language and gripping.
Highly recommended.' 'Hairs suddenly rise on the back of the neck ... Read with a glass of wine.'
Information
Format:

Paperback / softback

Pages:

1376 pages

Publisher:

Faber & Faber

Publication Date:

18/11/2004

Category:

ISBN:

9780571225552