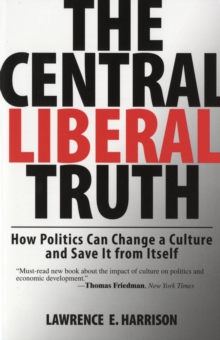 The Central Liberal Truth : How Politics Can Change a Culture and Save It from Itself
Paperback / softback
Information

Description

Other Formats
Description
Which cultural values, beliefs, and attitudes best promote democracy, social justice, and prosperity?
How can we use the forces that shape cultural change, such as religion, child-rearing practices, education, and political leadership, to promote these values in the Third World-and for underachieving minorities in the First World?
In this book, Lawrence E. Harrison offers intriguing answers to these questions, in a valuable follow-up to his acclaimed CultureMatters. Drawing on a three-year research project that explored the cultural values of dozens of nations-from Botswana, Sweden, and India to China, Egypt, and Chile-Harrison offers a provocative look at values around the globe, revealing how each nation's culture has propelled or retarded their political and economic progress.
The book presents 25 factors that operate very differently in cultures prone to progress and those that resist it, including one's influence over destiny, the importanceattached to education, the extent to which people identify with and trust others, and the role of women in society.
Harrison pulls no punches, and many of his findings will be controversial.
He argues, for example, that Protestantism, Confucianism, and Judaism have been more successful in promoting progressthan Catholicism, Orthodox Christianity, and Islam. Harrison rejects the Bush administration's doctrine that "the values of freedom are right and true for every person, in every society." Thus nations like Iraq and Afghanistan-where illiteracy, particularly among women, and mistrust are high and traditions of cooperation and compromise are scant-are likely to resist democracy. Most important, the book outlines a series of practical guidelines that developing nations and lagging minority groups can use to enhance their political, social, and economic well-being. Contradicting the arguments of multiculturalists, this book contends that when it comes to promoting human progress, some cultures are clearly more effective than others.
It convincingly shows which values, beliefs, and attitudes work and how we can foster them.
Information
Format:

Paperback / softback

Pages:

288 pages

Publisher:

Oxford University Press Inc

Publication Date:

10/07/2008

Category:

ISBN:

9780195331806