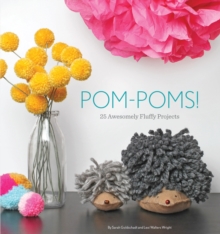 Description
They're soft, they're colourful, they're fun to craft, and they add a touch of whimsy to everything they meet.
They're pom-poms! And they're more adorable than ever. This delightfully photographed craft book takes readers through more than 25 pom-decorated crafts, from cozy home decor projects to fun outfit accessories to festive party supplies and embellishments.
Readers will use yarn, tissue paper, coffee filters, cupcake wrappers, and a host of other unexpected materials to make these insanely cute balls of fluff.
With easy to follow instructions, tons of gorgeous photos, and a fresh take on a perennial subject, Pom-Poms! will delight crafters of all ages.
Free
Standard Delivery

Within the UK