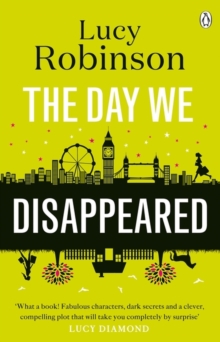 The Day We Disappeared
Paperback
Description
The unforgettable new novel from Lucy Robinson. Annie has a secret. But if she's not going to tell, we won't either. It's a heart-breaking secret she wishes she didn't have - yet Annie isn't broken, not quite yet.
Especially now there's someone out there who seems determined to fix her.
Kate has run away. But she's not going to tell us why - that would defeat the point of running, wouldn't it?
It's proving difficult to reinvent herself, however, with one person always on her mind.
Scratch beneath the surface and nobody is really who they seem.
Even Annie and Kate, two old friends, aren't entirely sure who they are any more.
Perhaps you can work it out, before their pasts catch up with them for good . . . A gripping and unpredictable story of two young women running from their pasts.
We defy you to guess the twist . . . Lucy Robinson is the author of The Greatest Love Story of All Time, A Passionate Love Affair with a Total Stranger and The Unfinished Symphony of You and Me.
Lucy worked in theatre and then television documentaries before starting a blog for Marie Claire about her laughably unsuccessful foray into the world of online dating.
She did not meet a man during this time but she did become a novelist: every cloud has a silver lining.
She now lives in Bristol with her partner, The Man, whom she met when she took off to Buenos Aires to become a bohemian writer in 2010.
Twitter: @Lucy_Robinson Facebook: www.facebook.com/LucyRobinsonWriter Instagram: RobinsonWriter Website: www.lucy-robinson.co.ukPraise for The Day We Disappeared: 'What a book!
Fabulous characters, dark secrets and a clever, compulsive plot that will take you completely by surprise.
Read it!' Lucy Diamond, Sunday Times top 10 bestselling author of The Year of Taking ChancesLucy Robinson has managed to pull off a very rare thing: a novel that is as sad as it is funny, as it is psychologically thrilling...
Totally satisfying. I could not put it down! - Katy Regan, bestselling author of How We MetI couldn't put this book down: a fabulously original love story that swoops and twists and wraps you in its big-hearted, funny yet dark-edged world - Lucy Dillon, bestselling author of A Hundred Pieces of MeTop notch, unforgettable women's fiction.
The Day We Disappeared is a rare gem, a novel that haunts, inspires and captivates.
The story took me completely by surprise. Its compulsive, funny, sad and shocking, and is the finest example of a romantic mystery you'll read all year - Victoria Fox, bestselling author of Power Games'Clear a space in your life for this awe-inspiring gem of a book.
Seriously, you'll need a place for all the bits of shattered earth to land.
Enthralling from the get-go and packed with an irresistible blend of brilliant characters, intriguing drama and a plot twist that will slam-dunk your brain into the middle of next week, this is a novel you'll be talking about for a very long time.
It's an overwhelming accomplishment that cements Lucy Robinson's place amongst the very best in the business.
Please, please read it' Isabelle Broom, Books Editor Heat magazine'One of Britain's most talented rising stars' Huffington Post'Intriguing and uplifting - a real page-turner full of humour and mystery, with a pair of heroines you'll welcome into your heart' Julie Cohen'We love a book with a twist and this doesn't disappoint' Now Magazine'A real page turner, with an unexpected twist' Bella'Brilliant story about love, secrets and lies' Heat Magazine, Top Five BooksPraise for Lucy Robinson: 'We want to climb the highest mountain and shout about this book to the world.
We laughed, we cried, we fell in love - and we haven't stopped going on about it ever since!' Heat'Romantic and laugh-out-loud hilarious' Cosmopolitan'One of Britain's most talented rising stars' Huffington Post
Information
Format:

Paperback

Pages:

448 pages

Publisher:

Penguin Books Ltd

Publication Date:

09/04/2015

ISBN:

9781405911603
Free
Standard Delivery

Within the UK