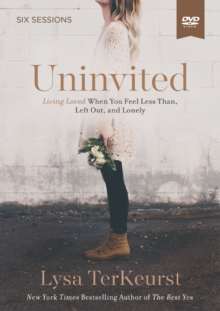 Uninvited Video Study : Living Loved When You Feel Less Than, Left Out, and Lonely
DVD video
Description
"Rejection steals the best of who I am by reinforcing the worst of what's been said to me." Rejection is a tough emotion to deal with.
It's harsh, hurtful, daunting. It has an ability to poison relationships from the inside out, including our relationship with God. In Uninvited, Lysa TerKeurst takes you to significant places in the Holy Land to help you explore the roots of rejection, the way other relationships get tainted because of a past rejection, and the truth about what it looks like to live loved. With biblical depth, gut-honest vulnerability, and refreshing wit, Lysa will help you: Stop feeling left out by believing that even when you are overlooked by others you are handpicked by God. Change your tendency to either fall apart or control the actions of others by embracing God honoring ways to process your hurt. Know exactly what to pray for the next ten days to steady your soul and restore your confidence. End the cycle of perceived rejection by refusing to turn a small incident into a full-blown issue. Overcome the two core fears that feed your insecurities by understanding the secret of belonging. In this six-session video study, Lysa reminds us we are destined for a love that can never be diminished, tarnished, shaken, or taken-a love that does not reject or uninvite.
With Jesus you are forever safe, accepted, held, completely loved and always invited in.
Sessions include: Living Loved (25:30) Empty or Full? (15:00) The Yoke of God Is Freedom (16:00) Set Apart (13:00) Remembering God's Presence (24:00) Lessons from the Olive (15:00) Bonus Session: Review and Celebration (No video) Locations in the Holy Land where Lysa teaches: Mount of Beatitudes - where Jesus spoke to the rejected Caiaphas's House - where Peter betrayed Jesus Cave of Adullam - where David hid from Saul Tel Shiloh - where Hannah prayed Cliffs of Mount Arbel - where Jesus looked out at the disciples struggling in the storm Garden of Gethsemane - where Jesus prayed Designed for use with the Uninvited Study Guide (9781400206001), sold separately.
Information
Format:

DVD video

Publisher:

Thomas Nelson Publishers

Publication Date:

09/08/2016

Category: Christian life & practice
ISBN:

9781400205981
Free
Standard Delivery

Within the UK