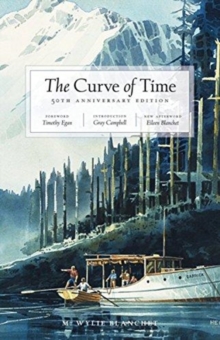 Curve of Time : 50th Anniversary Edition
Hardback
Description
"Our world then was both wide and narrow -- wide in the immensity of sea and mountain; narrow in that the boat was very small, and we lived and camped, explored and swam in a little realm of our own making." -- M.
Wylie Blanchet The 50th anniversary edition of this coastal British Columbia classic, now in beautifully illustrated hardcover, will make a timeless keepsake.
This is a biography and astonishing adventure story of a woman who, left a widow in 1927, packed her five children onto a 25-foot boat and cruised the coastal waters of British Columbia, summer after summer.
Muriel Wylie Blanchet acted single-handedly as skipper, navigator, engineer and, of course, mother, as she saw her crew through encounters with tides, fog, storms, rapids, cougars and bears.
She sharpened in her children a special interest in Haida culture and in nature itself. In this book, she left us with a sensitive and compelling account of their journeys.
Free
Standard Delivery

Within the UK