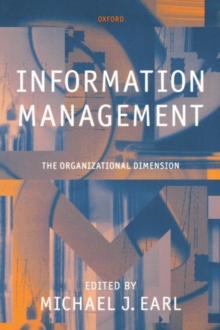 Information Management: The Organizational Dimension
Paperback
Description
This volume is a sequel to Information Management: The Strategic Dimension (OUP 1988), a book which was well received by managers and academics alike.
In the last decade, the pervasiveness of information technology (IT) has brought about far-reaching changes in how many managers and specialists work and, indeed, in how we conceptualize the organization. The correspondence between new organizational terminology and the language of IT demonstrates this - networked, virtual and knowledge-based organizations, inter-organizational alliances, distributed organizations and groupware all being examples.
For some, IT represents a solution to many organizational and operational problems (including the advocates of Business Process Re-engineering) and the most likely way to improve business performance and gain competitive advantage.
At the same time, for many managers and organizations the reality is that the risks, costs, false trails and difficulties seem to outweigh any immediate tangible advantage. The purpose of this book is to take an informed, dispassionate and constructive look at the challenges of IT and to offer insight, analysis and guidance on the ever changing IT environment, focusing in particular on managerial and organizational issues.
These include centralization versus decentralization, relations between users and specialists, managing the IS function, outsourcing versus internal capabilities, project management and systems implementation, and an assessment of Business Process Re-engineering at both the conceptual and empirical level.
Section 1 looks at some of the organizational horizons made possible by information technology; the next section tackles some of the challenges that face organizations who want to exploit IT in innovative and strategic ways.
Section 3 examines some of the eternal questions of how to organize the IS function. In Section Four the contributors look at various aspects of project management and systems implementation.
The next section examines some contemporary management questions on the agendas of Chief Information officers and their IS departments. Michael Earl's postscript integrates the volume through the framework of 'organizational fit'.
The book provides an authoritative overview and helpful diagnostics of current information management challenges by some of the leading information systems researchers in Europe and the USA. The volume will be essential reading for management students, consultants, and senior IT professionals.
Hardback Sales Details Published: 28.03.96 First year sales: Total: 650, UK: 264, USA: 177, EUR: 76, JAP/Branch: 88, Other: 45 Life sales: 894
Information
Format:

Paperback

Pages:

532 pages, figures and tables

Publisher:

Oxford University Press

Publication Date:

03/09/1998

Category: Management decision making
ISBN:

9780198294528
Free
Standard Delivery

Within the UK