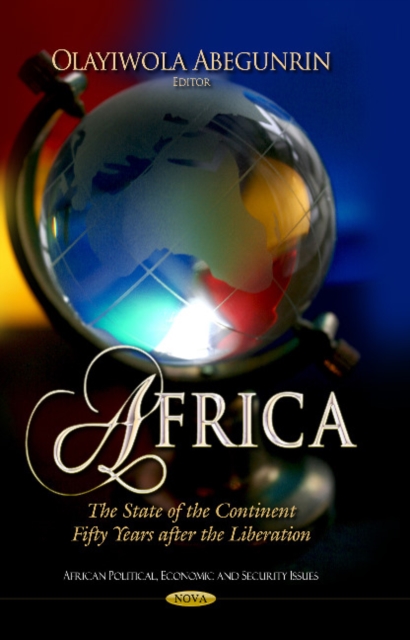 Africa : The State of the Continent Fifty Years After the Liberation
Hardback
Information

Description

Other Formats
Description
This book is one of the latest attempts to chronicle the problems and prospects of Africa.
However, this is done differently from many others that have come before it.
What makes this book a compelling read for everyone and particularly students aspiring to be introduced to African studies is its comprehensive approach to the study of the continent.
It takes the student literally by the hand and leads him or her through a rather complex historical, economic and of course political account of Africa and its peoples in a way that is detailed but yet not cumbersome, especially for the beginner's mind.
It is about the trials and tribulations of an aspiring continent, whose high hopes will soon collide with the harsh realities of domestic and global politics.
More importantly, it strikes an optimistic chord for the future of the continent, thus not only just looking forward, but doing so with positivity, something many books of its genre fail to do.
A post-Nkrumah era was not exactly what the "radicals" envisaged.
Instead of the United States of Africa, they got first the Organization of African Unity and then the African Union, while the best shot at economic integration is anagrammed ECOWAS.
This book explains why many of these attempts at political integration may not have been Africa's best bet.
Perhaps the most interesting thing about the book is its constant juxtaposition of the good, the bad and even the ugly.
The reader is introduced to an Africa which has made progress in democratising itself especially in the last two decades, but through that same journey learns that the continent, thanks to political violence in the likes of Rwanda, the Democratic Republic of Congo, Sudan and now Mali, may very well be contending for the world capital of disease, rape and ethnic cleansing.
Indeed more shocking for the prospective learner is the fact that the continent is unequivocally one of the richest in the world in natural and (yes) to some extent in human resources but nevertheless is host to some of the world's poorest countries.
Yet, this same continent has fought through it all surviving colonialism, the Cold War, apartheid and has even managed to produce Nobel laureates and a country (Ghana) that as of 2012 leads the rest of the world in economic growth.
That is the Africa brought to you by this book.
Information
Format:

Hardback

Pages:

170 pages

Publisher:

Nova Science Publishers Inc

Publication Date:

01/03/2014

Category:

ISBN:

9781629485614
Information
Format:

Hardback

Pages:

170 pages

Publisher:

Nova Science Publishers Inc

Publication Date:

01/03/2014

Category:

ISBN:

9781629485614