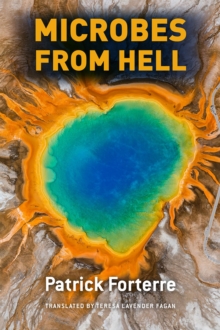 Microbes from Hell
Hardback
Description
At the close of the 1970s, the two-domain classification scheme long used by most biologists prokaryotes versus eukaryotes was upended by the discovery of an entirely new group of organisms: Archaea.
Initially thought to be bacteria, these single-celled microbes many of which were first found in seemingly unlivable habitats like the volcanic hot springs of Yellowstone National Park were in fact so different at molecular and genetic levels as to constitute a separate, third domain beside bacteria and eukaryotes.
Their discovery sparked a conceptual revolution in our understanding of the evolution of life, and Patrick Forterre was and still is at the vanguard of this revolution.
In Microbes from Hell, the world's leading expert on Archaea and hyperthermophiles, or organisms that have evolved to flourish in extreme temperatures, offers a colorful, engaging account of this taxonomic upheaval. Blending tales of his own search for thermophiles with discussions of both the physiological challenges thermophiles face and the unique adaptations they have evolved to live in high-temperature environments, Forterre illuminates our developing understanding of the relationship between Archaea and the rest of Earth's organisms.
From biotech applications to the latest discoveries in thermophile research, from microbiomes to the communities of organisms that dwell on deep-sea vents, Forterre's exploration of life forms that seem to thrive at the mouth of hell provides a glimpse into the early days of Earth, offering deep insight into what life may have looked like in the extreme environments of our planet's dawn.
Information
Format:

Hardback

Pages:

288 pages

Publisher:

The University of Chicago Press

Publication Date:

21/10/2016

Category: Microbiology (non-medical)
ISBN:

9780226265827
Free
Standard Delivery

Within the UK