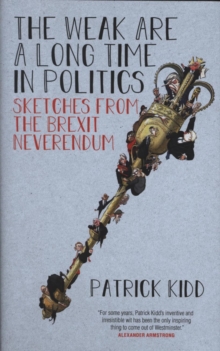 The Weak are a Long Time in Politics : Sketches from the Brexit Neverendum
Hardback
Description
Politics looked straightforward when Patrick Kidd took over the reins of the daily political sketch in The Times in 2015.
David Cameron had just won a general election and would clearly be Prime Minister for as long as he wanted; George Osborne was his obvious successor (rather than the editor of a free London evening newspaper); Theresa May was a slightly underwhelming Home Secretary and Jeremy Corbyn an anonymous Labour backbencher best known as a serial rebel against his own party. Then suddenly everything went a bit strange. In this anthology of his best columns from the past four years, Kidd plays the role of parliamentary theatre critic, chronicling the collapse of Cameron, the nebulous clarity of May, the rise and refusal to fall of Corbyn and Boris Johnson's repeated failure to keep his foot out of his mouth.
Featuring a menagerie of supporting oddballs, such as Jacob and the Mogglodytes, Failing Grayling, Gavin `Private Pike' Williamson and the simpering lobby fodder that are Toady, Lickspittle and Creep, this is a much-needed antidote to the gloom of the Brexit years.
Free
Standard Delivery

Within the UK