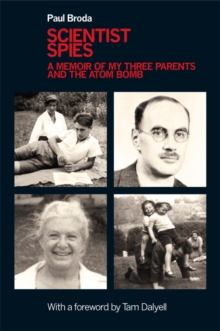 Scientist Spies : A Memoir of My Three Parents and the Atom Bomb
Hardback
Description
The Atom Bomb was crucial to a post-War world dominated by the Cold War.
Yet the stories of the people who chose to give atom secrets to Russia has never fully been told.
Paul Broda's father and stepfather both passed secrets to the Russians, for no personal gain.
Here he gives his personal account of his family and their actions.
Scientist Spies is a compelling account of three lives swept up in the great events of Communism, Fascism, World War II, and the creation of the Atom Bomb. Paul Broda's father Engelbert Broda (Berti) was an Austrian who was imprisoned as a Communist in Berlin in 1933 and then twice in Austria, twice escaped arrest, and was secretly in Russia in 1936.
He came to England and from 1942 worked on the Atom Project.
The author's mother, Hilde, met Berti in Berlin and joined him in London in 1938.
In 2009 it emerged from Russian archives that Berti had spied for the Russians, as MI5 had long suspected. Alan Nunn May, who was to become Paul Broda's stepfather, was a physicist who trained at the Cavendish Laboratory in Cambridge under Rutherford and Chadwick.
He also joined the Atom Project in 1942 and he gave atomic secrets to the Russians during the War.
Alan was convicted under the Official Secrets Act in 1946, and served nearly seven years in prison.
Hilde met Alan after his release and they married in 1953. The espionage by both Berti and Alan affected subsequent history to the extent that each separately has been said to have `started the Cold War'.
Here, for the first time, Paul Broda describes the origins of his `three parents', all born in 1910-11, what shaped their attitudes towards Communism and Fascism and why they gave secrets.
Using family sources, such as letters and Alan's own accounts, Paul Broda has been able to combine their stories with much material that was released by MI5 in 2006-07, and what he himself saw.
In this unique and very personal memoir, he presents his own view of his parents as principled and committed individuals who believed that they were making the world a safer place, but invites readers to form their own views.
Information
Format:

Hardback

Pages:

344 pages

Publisher:

Troubador Publishing

Publication Date:

01/04/2011

ISBN:

9781848766075
Free
Standard Delivery

Within the UK