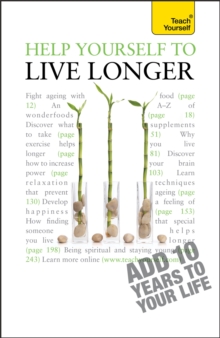 Help Yourself to Live Longer
Paperback
Description
Is this the right book for me?A flexible guide that will add ten happy and healthy years to your life This book is designed as a ten-step guide that will add ten (healthy, happy) years to your life.
It offers sound advice on health and fitness issues, and will cover diet and relaxation, in addition to such emotional issues as happiness, love and spirituality.
It is all based, not on guru driven theories of bizarre diets or exercise routines, but on common sense and positive thinking, twinned with information that is both practical and supported widely by the scientific and medical communities.
The tone is positive and encouraging throughout; there are also plenty of opportunities for you to interact with the book through features such as quizzes, self-test boxes and exercises.Help Yourself to Live Longer includes:Chapter 1: Why we ageThe gene theory of ageingThe free radical theory of ageingMaking the most of this bookChapter 2: FoodHow some foods fight ageingAn a-z of longevity wonderfoodsCrash dietsRestrict calories, live longerThe live-longer meal plannerChapter 3: SupplementsThe great supplement debateCombining vitamin and mineral supplementsChapter 4: ExerciseUp to ten more yearsHow exercise makes you feel more happierHow fit are you?Exercising for fitnessDo what you enjoyExercising for strengthExercising for flexibilityDevising a weekly program for fitness, strength and flexibilityChapter 5: Your brainHow your brain worksDementiaPhysical activityAvoiding stressAvoiding neurotoxicantsAvoiding head injuryMental activityIncreasing your brain powerChapter 6: RelaxationThe slow movementGood and bad stressDownsizingRelaxation techniquesMeditationGive yourself some cognitive self-therapySleepMuscular relaxationLaughter - the stress breakerChapter 7: HappinessBe gratefulGetting rid of negative thoughtsHow negative emotions can poison youApplying the lessons to your pastEnough money for a happy future?Chapter 8: PrudenceAvoiding cancerSmoking - please stopVirusesAlcoholDrugsSunshineDrivingAvoid head injurySexIs it worth having medical check-upsBody scansChapter 9: LoveThat special someoneLove is the food of healthMore love, less stressPsychoneurosexualityOxytocinImproving your relationshipIf your partner has diedRelatives and friendsPetsHow well connected are you?Chapter 10: SexThe normal developments of ageingManaging the effects of ageingMen's problemsWomen's problemsA lifetime of sex with the same partnerChapter 11: SpiritualityGratitude and acceptanceOptimismCoping skillsGiving life a pointChoosing what to believePrayerHow to be more spiritual if you don't believe in GodDeveloping spiritualityLearn effortlessly with a new easy-to-read page design and added features:- Personal insights, tips, and summaries throughout the book- Extension articles online - 1, 5 and 10-minute bites of learning to get you started- Designed for readers of all ages, backgrounds and abilities - Lots of interactive exercises and sample tips
Information
Format:

Paperback

Pages:

288 pages, None

Publisher:

Hodder & Stoughton General Division

Publication Date:

26/11/2010

Category: Popular medicine & health
ISBN:

9781444107449
Free
Standard Delivery

Within the UK
Also in the Teach Yourself - General series
|
View all