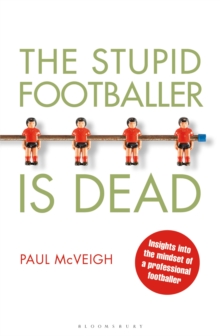 The Stupid Footballer is Dead : Insights into the Mind of a Professional Footballer
Paperback
Description
Professional football in the modern era is played every bit as much in the mind as on the pitch.
More and more it's becoming clear that natural talent is nowhere near enough to sustain a career in the modern game. Players need to be smart; not academically but in terms of their thinking.
The ones who are dedicated, with mental resilience and a winner's psychology are prospering and will continue to do so as the game evolves. The stupid footballer is dead. Ex-Premiership footballer Paul McVeigh looks back on his professional career and how he learned to play the mental game and gives a look behind-the-scenes into the approach of some of the game's highest performers.
This book will appeal to sports fans and players who want to get inside the head of top professionals. And if there is one book to be read by players at all levels who want to improve their performance on the pitch then this is it - from someone who hit the heights in top-level sport and is driven to share what he learned along the way.
Free
Standard Delivery

Within the UK