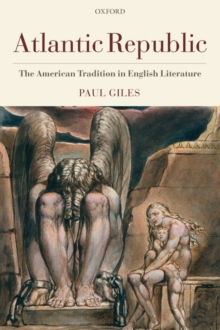 Atlantic Republic : The American Tradition in English Literature
Paperback / softback
Description
Atlantic Republic traces the legacy of the United States both as a place and as an idea in the work of English writers from 1776 to the present day.
Seeing the disputes of the Reformation as a precursor to this transatlantic divide, it argues that America has operated since the Revolution as a focal point for various traditions of dissent within English culture.
By ranging over writers from Richard Price and Susanna Rowson in the 1790s to Angela Carter andSalman Rushdie at the turn of the twenty-first century, the book argues that America haunts the English literary tradition as a parallel space where ideology and aesthetics are configured differently.
Consequently, it suggests, many of the key episodes in British history-parliamentary reform in the 1830s, theimperial designs of the Victorian era, the twentieth-century conflict with fascism, the advance of globalization since 1980-have been shaped by implicit dialogues with American cultural models.
Rather than simply reinforcing the benign myth of a 'special relationship', Paul Giles considers how various English writers over the past 200 years have engaged with America for various complicated reasons: its promise of political republicanism (Byron, Mary Shelley); its emphasis on religiousdisestablishment (Clough, Gissing); its prospect of pastoral regeneration (Ruxton, Lawrence); its vision of scientific futurism (Huxley, Ballard).
The book also analyses the complex cultural relations between Britain and the United States around the time of the Second World War, suggesting that writers suchas Wodehouse, Isherwood, and Auden understood the United States and Germany to offer alternative versions of the kind of technological modernity that appeared equally hostile to traditional forms of English culture.
The book ends with a consideration of ways in which the canon of English literature might appear in a different light if seen from a transnational rather than a familiar national perspective.
Information
Format:

Paperback / softback

Pages:

432 pages, 25 black-and-white halftones

Publisher:

Oxford University Press

Publication Date:

04/06/2009

Category: Literary studies: c 1800 to c 1900
ISBN:

9780199567034
Free
Standard Delivery

Within the UK