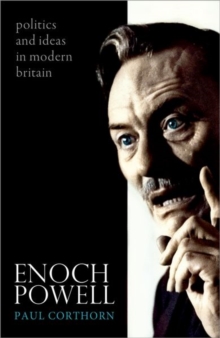 Enoch Powell : Politics and Ideas in Modern Britain
Hardback
Description
Best known for his notorious 'Rivers of Blood' speech in 1968 and his outspoken opposition to immigration, Enoch Powell was one of the most controversial figures in British political life in the second half of the twentieth century and a formative influence on what came to be known as Thatcherism.
Telling the story of Powell's political life from the 1950s onwards, Paul Corthorn's intellectual biography goes beyond a fixation on the 'Rivers of Blood' speech to bring us a man who thought deeply about-and often took highly unusual (and sometimes apparently contradictory) positions on-the central political debates of the post-1945 era: rejecting the Cold War emphasis on the Anglo-American relationship (and at one stage going so far as to advocate the idea of an alliance with the SovietUnion); promoting free-market economics long before it was fashionable, while remaining a staunch defender of the National Health Service; vehemently opposing British membership of the European Community; arguing for the closer integration of Northern Ireland with the rest of the UK; and in the 1980ssupporting unilateral nuclear disarmament.
In the process, Powell emerges as more than just a deeply divisive figure but as a seminal political intellectual of his time.
Paying particular attention to the revealing inconsistencies in Powell's thought and the significant ways in which his thinking changed over time, Corthorn argues that Powell's diverse campaigns can nonetheless still be understood as a coherent whole, if viewed as part of a long-running, and wide-ranging, debate set against the backdrop of the long-term decline inBritain's international, military, and economic position in the decades after 1945.
Information
Format:

Hardback

Pages:

256 pages, 10 black and white illustrations

Publisher:

Oxford University Press

Publication Date:

05/09/2019

ISBN:

9780198747147
Free
Standard Delivery

Within the UK