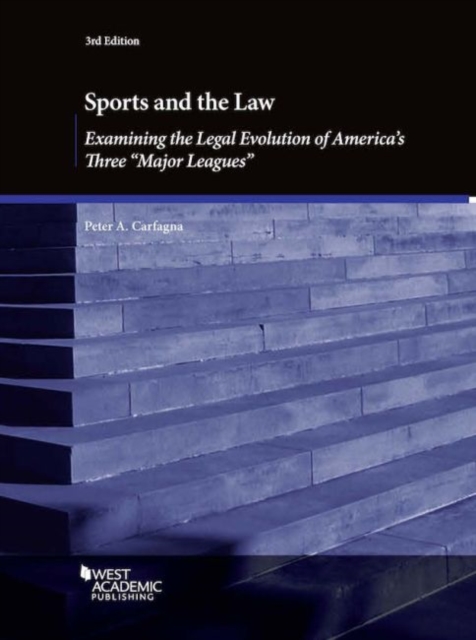 Sports and the Law, Examining the Legal Evolution of America's Three Major Leagues
Paperback / softback
Description

Information

Other Formats
Description
Sports and the Law: Examining the Legal Evolution of America's Three "Major Leagues", 3rd Edition, represents the most up-to-date legal analysis of a wide variety of cutting-edge sports law issues that have impacted the "Three Major Leagues" since the last edition was published.
In particular, each chapter's updates, which are linked to an Appendix containing companion study guides, comprehensively analyze the most significant sports law developments over the past several years.
Beginning with an analysis of Commissioner's Authority and the Major Leagues' collective bargaining agreements, the book tracks the major changes to the NFL's Personal Conduct Policy and the recently negotiated CBAs in the NBA and MLB.
In so doing, the book and study guides take a deep dive into the landmark cases that exemplify the Leagues' disciplinary and dispute resolution processes in action, such as Deflategate, domestic violence suspensions in the NFL and MLB, players' and teams' usage of social media, NFL uniform and equipment rules, and the Cardinals-Astros hacking scandal. Next, the text analyzes how the historic baseball "antitrust exemption," which was first established by the Supreme Court in 1922 (and upheld in 1972 in Flood v.
Kuhn), has been applied most recently with updated applications of the exemption through an analysis of the following cases: San Jose/Oakland A's (MLB franchise relocation), Miranda (minor league baseball players), Garber (territorial broadcast rights) and Wyckoff (MLB scouts), among others.
An overview of general antitrust law (including the statutory and nonstatutory labor exemptions) in the context of the NFL and NBA is included in a newly formated chapter.
The "legal evolution" of age eligibility restrictions and professional drafts are explored in that same context, with related study guides. The new edition next traces the development of the Leagues' various regimens for monetizing the available inventories of "intellectual property rights," including updates to the Leagues' (and players') licensing and "publicity rights" rules, highlighting the NBA's recent decision to allow for advertising on team jerseys.
A new chapter then importantly deals with the evolving subjects of Concussion and Painkiller-related Litigation in the NFL, along with other challenges to the Major Leagues' Drug Testing rules, including the BioGenesis saga and the NFL's revised drug policy.
The final chapter covers recent developments in the application of the Three Leagues' "franchise relocation" rules, with an in-depth look at the recent relocations of the Rams, Chargers and (perhaps) the Oakland Raiders, among others.
Information
Format:

Paperback / softback

Pages:

447 pages

Publisher:

West Academic Publishing

Publication Date:

30/07/2017

Category:

ISBN:

9781683288213
Information
Format:

Paperback / softback

Pages:

447 pages

Publisher:

West Academic Publishing

Publication Date:

30/07/2017

Category:

ISBN:

9781683288213