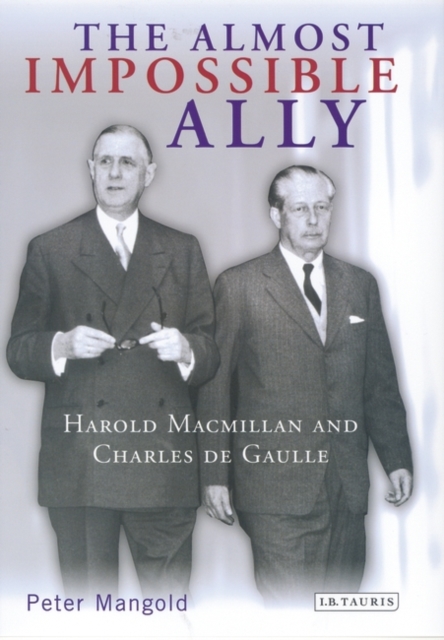 The Almost Impossible Ally : Harold Macmillan and Charles De Gaulle
Hardback
Information

Description

Other Formats
Description
On 14 January 1963, General de Gaulle (described by the Foreign Office as an 'almost impossible ally') brutally vetoed Britain's first bid to join the Common Market.
It was a blow that delayed Britain's entry for a decade and hastened the end of Harold Macmillan's political career.
Peter Mangold writes in arresting detail about the fascinating personal duel that shaped high politics and Anglo-French diplomacy.
He portrays two of the most complex and skilful leaders of the post-war era, old friends from their association in Algiers during World War II: de Gaulle the dour, lofty moralist obsessed with high notions of France; and Macmillan, the canny, ambitious fixer, always the pragmatist seeking to get things done.
As Resident Minister, Allied Forces Headquarters in Algiers in 1943, Macmillan had done much to help de Gaulle, and protect him from Churchill's and Roosevelt's hostility.
They next met in 1958, as leaders of their two countries, when Britain and France faced many similar problems ranging from decolonization and their determination to retain national Great Power status to relations with the impetuous Soviet leader, Nikita Khrushchev. But while both seemed anxious to retain their old wartime connection, they were now rivals with very different views of the world.
Divided by the Atlantic as much as the Channel, the two leaders disagreed fundamentally over America.
De Gaulle sought the leadership of a Europe independent of the United States; the pro-American Macmillan talked of Britain as a 'bridge' between the two sides of the Atlantic.
When Macmillan finally sought EEC membership, de Gaulle played on the old alliance to keep the British Prime Minister off guard.
Ultimately, Macmillan was outwitted, out-manoeuvred and even, perhaps, outclassed by the General. "The Almost Impossible Ally" is a fascinating story of a friendship turned sour, and of a compelling new episode in the turbulent relations between Britain and France.
Information
Format:

Hardback

Pages:

288 pages, 8 b/w illustrations

Publisher:

Bloomsbury Publishing PLC

Publication Date:

02/02/2006

Category:

ISBN:

9781850438007
Information
Format:

Hardback

Pages:

288 pages, 8 b/w illustrations

Publisher:

Bloomsbury Publishing PLC

Publication Date:

02/02/2006

Category:

ISBN:

9781850438007