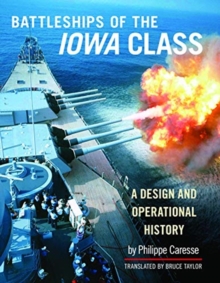 Battleships of the Iowa Class: A Design and Operational History
Hardback
Information

Description

Other Formats
Description
The four battleships of the Iowa class, the crowning achievement of US battleship construction, had exceptionally long careers and each in their way left a distinctive mark not only on the US Navy but on naval history at large.
Built as the ultimate American battleship and designed to engage the major units of the Japanese and German fleets, the class were commissioned in the closing stages of World War II, the beginning of half a century of service during which individual units saw action in the Korean War, the Vietnam War, the Lebanese Civil War and finally the Gulf War.
As such these vessels are symbolic of the primacy of US seapower during the Cold War, and the preservation of all four of these mighty vessels as museum ships is testament not only to their enduring fascination, but also to the immense technical, financial, military and political resources wielded by the United States during the second half of the twentieth century.
This superb new book includes a general introduction providing the context and design history of the entire class; detailed and extensively illustrated information on specifications, equipment and modifications; and comprehensive coverage of the construction, career, operations and preservation of each unit.
The author covers all the significant events in the life of each ship, including Missouri in Tokyo Bay, New Jersey off Vietnam and Lebanon, Wisconsin's collision with the destroyer Eaton, the Iowa turret explosion and many others.
Lavishly illustrated with more than 600 photos (many in colour), 35 spectacular CG artworks and six maps, this beautifully produced work is the ultimate volume on the ultimate battleship class and a fitting souvenir of these four ships, now all preserved for posterity. AUTHOR: Philippe Caresse was born into a naval family in 1964 and joined the French Navy in 1982, serving in the destroyer d'Estrees.
He has published an extensive range of ship monographs on the French, German, US, and Japanese navies from the late-nineteenth century to the Second World War, and is co-author with John Jordan of a series of volumes on French warships, including French Battleships of World War One, all published by Seaforth.
He is the harbormaster of a marina on the Cote d'Azur. 600 colour and b/w photographs, 35 CG drawings, 6 maps
Information
Format:

Hardback

Pages:

522 pages

Publisher:

Pen & Sword Books Ltd

Publication Date:

05/02/2020

Category:

ISBN:

9781526773180