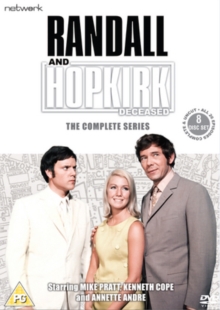 Randall and Hopkirk (Deceased): The Complete Series
DVD
Description
All 26 episodes of the cult 1960s series. In 'My Late, Lamented Friend and Partner' detective Jeff Randall (Mike Pratt) is devastated when his friend and partner Marty Hopkirk (Kenneth Cope) is killed by a hit-and-run driver.
However, Marty's ghost returns from the grave to inform Jeff that his death was no accident. 'A Disturbing Case' has Marty's widow Jeannie (Annette Andre) commit Jeff to an asylum when she sees him talking to himself. 'All Work and No Pay' finds Jean convinced that the moving furniture in her flat is the work of her late-husband Marty's restless spirit, but of course Jeff and the ghostly Marty know better. 'Never Trust a Ghost' sees Marty convinced that a man has been shot dead in his London home after inadvertently witnessing the killing.
In 'That's How Murder Snowballs' Jeff uses Marty to help him form a variety act when he investigates the murder of a mind reader. 'Just for the Record' finds Jeff acting as bodyguard to a beauty contest entrant, but the job is not as simple as it at first seemed. 'Murder Ain't What It Used to Be!' has Marty cross swords with another ghost - deceased gangster Bugsy, who wants revenge on his former partner-in-crime.
Unfortunately, Bugsy's intended victim is Marty's partner Jeff's latest client! 'Whoever Heard of a Ghost Dying?' sees Jeff and Marty being used as fall guys when a master criminal and a clairvoyant discover their secret.
In 'The House on Haunted Hill' Jeff asks Marty to help solve the mystery of a 'haunted house' which is being used as the front for a diamond robbery. 'When Did You Start to Stop Seeing Things?' finds Marty worried that Jeff can no longer see him. 'The Ghost Who Saved the Bank at Monte Carlo' has Jeff help Marty's aunt elude a gang of crooks desperate to get their hands on her winning gambling formula. 'For the Girl Who Has Everything' sees Jeff called in by the wealthy Kim to investigate whether or not her castle really is haunted.
In 'But What a Sweet Little Room' Jeff sets Marty to work investigating the suspicious death of a client. 'Who Killed Cock Robin?' has Jeff hired to guard an aviary which forms the centrepiece to an unusual bequest. 'The Man From Nowhere' finds Jeff more than a little suspicious when a man turns up claiming to be the reincarnation of his late partner Marty. 'When the Spirit Moves You' sees Marty making a new acquaintance when it transpires that a would-be fraudster can actually see him - but only when drunk. 'Somebody Just Walked Over My Grave' has Marty shocked to discover someone digging in his grave. 'Could You Recognise that Man Again?' finds Jean kidnapped and held hostage in order to stop her testifying at a murder trial.
In 'A Sentimental Journey' Jeff is asked to take some valuable goods from London to Scotland. 'Money to Burn' sees Jeff accused of stealing money intended for the incinerator. 'The Ghost Talks' has a hospital-bound Jeff forced to listen to Marty's account of a case he was once involved in. 'It's Supposed to be Thicker Than Water' finds Jeff delivering an envelope to an escaped convict on the run.
In 'The Trouble With Women' Jeff is again framed for murder, and Marty has to attend a Spiritualist meeting in order to rescue him. 'Vendetta for a Dead Man' sees an enemy of Marty's return to wreak his revenge. 'You Can Always Find a Fall Guy' has Jeff come to the aid of a nun who is not all that she seems.
Finally, in 'The Smile Behind the Veil', Marty notices a smiling griever at a funeral, and deduces foul play.
Information
Format:

DVD

Region:

2

Certification:

(PG)

EAN:

5027626487744

Catalogue number:

7954877

Studio:

Network

Release date:

12/02/2018

Genre: Action/Adventure
Colour:

Colour
Free
Standard Delivery

Within the UK
Also directed by Cyril Frankel
|
View all