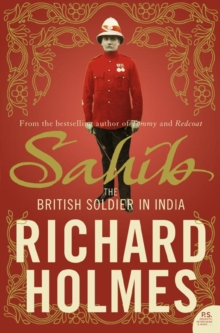 Sahib : The British Soldier in India 1750-1914
Paperback / softback
Information

Description

Other Formats
Description
From bestselling author of 'Tommy' and 'Redcoat', the rich history of the British soldier in India from Clive to the end of empire considered to be the jewel in Britain's imperial crown. 'Sahib' is a broad and sweeping military history of the British soldier in India, but its focus, like that of Tommy and Redcoat before it, will be on the men who served in India and the women who followed them across that vast and dusty continent, bore their children, and, all too often, mopped their brows as they died. The book begins with the remarkable story of India's rise from commercial enclave to great Empire, from Clive's victory of Plassey, through the imperial wars of the 18th-century and the Afghan and Sikh Wars of the 1840s, through the bloody turmoil of the Mutiny, and the frontier campaigns at the century's end.
With its focus on the experience of ordinary soldiers, 'Sahib' explains to us why soldiers of the Raj had joined the army, how they got to India and what they made of it when they arrived.
The book examines Indian soldiering in peace and war, from Kipling's 'snoring barrack room' to storming parties assaulting mighty fortresses, cavalry swirling across open plains, and khaki columns inching their way between louring hills.
Making full use of extensive and often neglected archive material in the India Office Library and National Army Museum, 'Sahib' will do for the British soldier in India - whether serving a local ruler, forming part of the Indian army, or soldiering with a British regiment - what 'Tommy' has done for the ordinary soldier in World War I.
Information
Format:

Paperback / softback

Pages:

416 pages, 16 b/w plates

Publisher:

HarperCollins Publishers

Publication Date:

03/04/2006

Category:

ISBN:

9780007137541