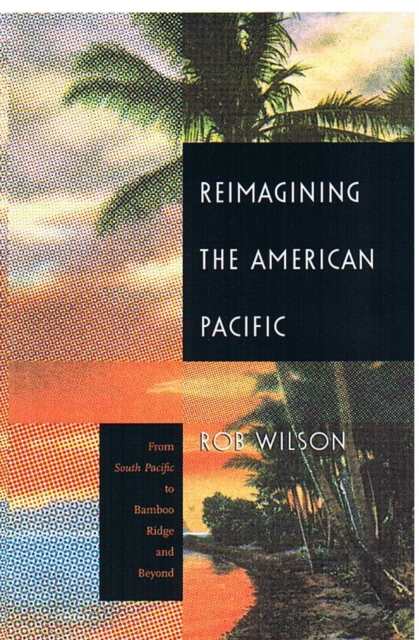 Reimagining the American Pacific : From South Pacific to Bamboo Ridge and Beyond
Hardback
Description

Information

Other Formats
Description
In this compelling critique Rob Wilson explores the creation of the "Pacific Rim" in the American imagination and how the concept has been variously adapted and resisted in Hawai'i, the Pacific Islands, New Zealand, and Australia.
Reimagining the American Pacific ranges from the nineteenth century to the present and draws on theories of postmodernism, transnationality, and post-Marxist geography to contribute to the ongoing discussion of what constitutes "global" and "local."Wilson begins by tracing the arrival of American commerce and culture in the Pacific through missionary and imperial forces in the nineteenth century and the parallel development of Asia/Pacific as an idea.
Using an impressive range of texts-from works by Herman Melville, James Michener, Maori and Western Samoan novelists, and Bamboo Ridge poets to Baywatch, films and musicals such as South Pacific and Blue Hawaii, and native Hawaiian shark god poetry-Wilson illustrates what it means for a space to be "regionalized." Claiming that such places become more open to transnational flows of information, labor, finance, media, and global commodities, he explains how they then become isolated, their borders simultaneously crossed and fixed.
In the case of Hawai'i, Wilson argues that culturally innovative, risky forms of symbol making and a broader-more global-vision of local plight are needed to counterbalance the racism and increasing imbalance of cultural capital and goods in the emerging postplantation and tourist-centered economy. Reimagining the American Pacific leaves the reader with a new understanding of the complex interactions of global and local economies and cultures in a region that, since the 1970s, has been a leading trading partner of the United States.
It is an engaging and provocative contribution to the fields of Asian and American studies, as well as those of cultural studies and theory, literary criticism, and popular culture.
Information
Format:

Hardback

Pages:

320 pages

Publisher:

Duke University Press

Publication Date:

24/07/2000

Category:

ISBN:

9780822325000
Other Formats
Paperback / softback from £20.22
Information
Format:

Hardback

Pages:

320 pages

Publisher:

Duke University Press

Publication Date:

24/07/2000

Category:

ISBN:

9780822325000