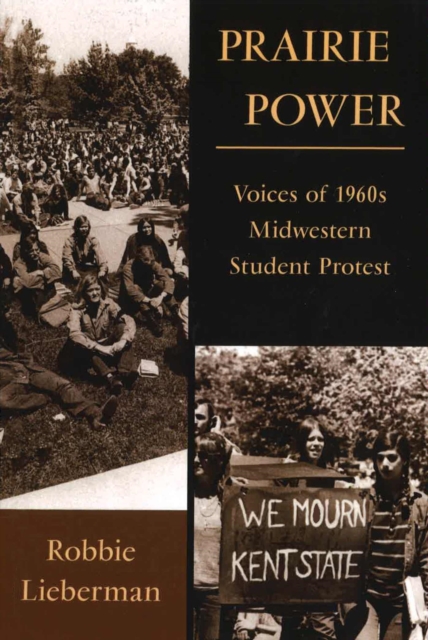 Prairie Power : Voices of 1960s Midwestern Student Protest
Paperback / softback
Information

Description

Other Formats
Description
Prairie Power, a superb collection of oral histories from the 1960s, focuses on former student radicals at the University of Missouri, the University of Kansas, and Southern Illinois University.
Robbie Lieberman presents a view of midwestern New Left activists that has been neglected in previous studies. Scholarship on the sixties has been shifting from a national focus to more local and regional studies, but few authors have studied the student movement in the Midwest.
Moreover, the characterization of prairie power activists as "long-haired, dope-smoking anarchists" who were responsible for the downfall of Students for a Democratic Society (SDS) has not been challenged directly.
While still viewing these activists critically, Lieberman argues that midwestern students made significant contributions to the New Left in the latter half of the decade, and that their efforts were not only important at the time but also had a lasting impact on the universities and towns in which they were active. The author begins by explaining "prairie power" and establishing its significance in the history of 1960s protest.
She then presents the oral histories in three parts.
The first section reveals what "prairie power" meant to national leaders of SDS who were regional organizers in the Midwest.
The second section of oral histories gives insight into the backgrounds, concerns, and activities of local leaders from the three universities who were homegrown midwestern activists.
Lieberman shows that while the national leaders take credit for organizing on several college campuses, the local activists often felt that they were on their own. The third group of oral histories - from grassroots activists - is what most sets this book apart from previous works on the student New Left.
These are students who joined demonstrations on their own campuses but did not necessarily identify with either local or national organizations.
Their rarely heard voices help provide a better understanding of who participated in the student protest movement, why they were involved, and how their activities profoundly affected their lives for years to come. Prairie Power makes a significant contribution toward a more comprehensive history of student activism in the turbulent 1960s.
Information
Format:

Paperback / softback

Pages:

288 pages

Publisher:

University of Missouri Press

Publication Date:

16/09/2019

Category:

ISBN:

9780826222053
Information
Format:

Paperback / softback

Pages:

288 pages

Publisher:

University of Missouri Press

Publication Date:

16/09/2019

Category:

ISBN:

9780826222053