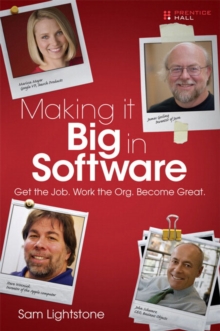 Making it Big in Software : Get the Job. Work the Org. Become Great.
Paperback / softback
Description
The Software Insider's Guide to Getting Hired and Getting to the Top!
Here's all the information you need to jumpstart your software career: the best ways to get hired, move up, and blaze your way to the top!
The software business has radically changed, and this book reveals today's realities-everything your professors and corporate managers never told you.
In his 20 years at IBM as a software architect, senior manager, and lead programmer, Sam Lightstone has briefed dozens of leading companies and universities on careers, new technology, and emerging areas of research.
He currently works on one of the world's largest software development teams and spends a good part of his time recruiting and mentoring software engineers.
This book shares all the lessons for success Sam has learned...plus powerful insights from 17 of the industry's biggest stars.
Want to make it big in software? Start right here! Discover how to* Get your next job in software development* Master the nontechnical skills crucial to your success* "Work the org" to move up rapidly* Successfully manage your time, projects, and life* Avoid "killer" mistakes that could destroy your career* Move up to "medium-shot," "big-shot," and finally, "visionary"* Launch your own winning software company Exclusive interviews withSteve Wozniak, Inventor, Apple computerJohn Schwarz, CEO, Business ObjectsJames Gosling, Inventor, Java programming languageMarissa Mayer, Google VP, Search Products and User ExperienceJon Bentley, Author, Programming PearlsMarc Benioff, CEO and founder, Salesforce.comGrady Booch, IBM Fellow and co-founder Rational SoftwareBjarne Stroustrup, Inventor, C++ programming languageDavid Vaskevitch, Microsoft CTO Linus Torvalds, Creator, Linux operating system kernelRichard Stallman, Founder, Free software movementPeter Norvig, Google's Director of ResearchMark Russinovich, Microsoft Fellow and Windows ArchitectTom Malloy, Adobe Chief Software ArchitectDiane Greene, Co-founder and past CEO of VMwareRobert Kahn, Co-inventor, the InternetRay Tomlinson, Inventor, email
Free
Standard Delivery

Within the UK
Also by Sam Lightstone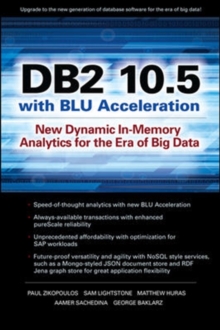 Available with free
standard delivery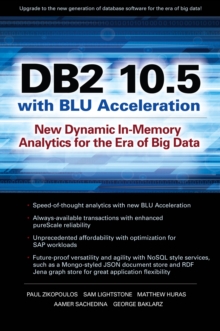 Available for
immediate download