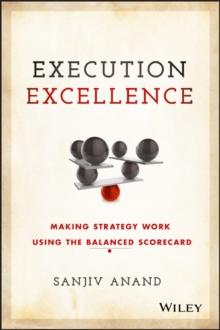 Execution Excellence : Making Strategy Work Using the Balanced Scorecard
Hardback
Description
A hands-on guidebook for making your strategy work with effective Balanced Scorecard design, deployment, and maintenance Execution Excellence is the practitioner's guide to real-world implementation.
Designed by a Balanced Scorecard (BSC) thought leader with 30 years of experience and over 300 global implementations under his belt across a range of industry sectors, this guide gives you a hands-on framework for putting the BSC methodology into action.
Clear, concise, and easy to read, this book skips the theoretical exposition to get right to the point how can companies use BSC to effectively deploy strategy and drive individual and enterprise performance?
You'll find the answers here. The discussion outlines the ways in which firms commonly fail in implementing BSC.
These failures can be traced back to common design and implementation flaws: making the process too complicated and focusing on the BSC process rather than the outcome.
The discussion will also cover design optimization across a range of key industry sectors.
You'll gain expert insight into avoiding these missteps and the practical tools and perspective you need to implement BSC correctly the first time. While the Balanced Scorecard framework is widely accepted and praised, about half of firms that implement it fail to realize the full benefits.
The fault lies not with the framework, but with the design, and more importantly execution.
This book gives you the information and tools you need to adopt BSC successfully. * Design a BSC that truly and simply reflects your strategy * Customize the BSC to reflect your industry's uniqueness * Define clear measurements and ownership that suit your strategy * Develop a framework for efficient data collection and reporting * Implement effective reviews to keep your business on track * Use your Balanced Scorecard data to close performance gaps Developed in the early 1990s, the Balanced Scorecard framework has been recognized as one of the most seminal business ideas in the last 75 years.
Thousands of companies around the world use BSC to create and maintain a performance-oriented enterprise, yet just as many try and fail.
Execution Excellence shows you what you need to know and do to become a BSC success story. Praise for EXECUTION EXCELLENCE "Execution Excellence is a very clear roadmap for any manager serious about improving performance with a team.
Sanjiv has decades of experience solving problems with real-world companies and the challenges they face.
This is a superb summary of his learning, communicated in concise, specific and easy to understand steps.
I highly recommend it." RON SANDERS, President, Warner Bros.
Worldwide Home Entertainment "This book is full of sensible, practical advice on how to improve your business using the powerful tools of the Balanced Scorecard.
Businesses of all types can see how to achieve their goals more effectively and quickly if they adopt the techniques shown here.
Read and prosper!" JON MOULTON, Founder and Managing Partner, Better Capital "Sanjiv certainly did not disappoint.
The book is certainly a compendium of incredible experience he has had as a Consultant in different circumstances.
It makes for extremely interesting reading. It is full of substance with practical and implementable suggestions and explains in an incredibly simple and straight forward manner how a tool like the Balance Scorecard can help in terms of framing and implementing business strategy in today's complex and multi dimensional business world." AKHIL GUPTA, Vice Chairman, Bharti Enterprises "If you ever wondered how great generals manage their troops, this is your chance.
Sanjiv is the general when it comes to implementing the BSC, having seen him in board rooms.
If you are passionate about execution, then this is your back pocket guide.
If you want more, read between the lines." SALEH LOOTAH, Chairman, Ssl Holdings, Former Board Member, Dubai Islamic Bank "Sanjiv's thirty year experience in helping firms drive enterprise and individual performance, and bringing alignment between these components comes clearly through in this book.
The insights are practical, global, and across industry sectors.
A must read!" LEENA NAIR, Chief Hr Officer, Unilever
Free
Standard Delivery

Within the UK
Also by Sanjiv Anand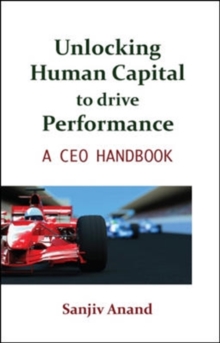 Available with free
standard delivery