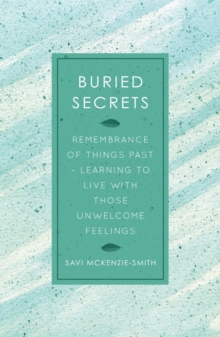 BURIED SECRETS : Remembrance of Things Past, Learning to live with those unwelcome feelings
Paperback / softback
Description
Do you have a secret? No? Think again... Using simplelanguage for the everyday reader, Buried Secrets givesdescriptive accounts from real people who have been depressed with who theyare, and how they've changed their personality for the better using psychotherapyor 'the talking cure'.
Regardless of age, unwelcome feelings from earlymemories can return to haunt the present and cause distress, anxiety, milddepression and feelings of revenge.
Section one recounts reconstructed storiesthat indicate how some older people have conquered this and improved theirlifestyle, while section two tells of changes made by younger people for thebetter. The bookstates that cognitive, positive attributions are memorised and recalled - sowhy not negative ones?
They can be negotiated with and worked through, eitherwith or without support.
One can learn that through grieving these feelings,forgiving and moving forward can enhance your life.
Buried Secrets leads the way to a brighter future. As Savi says:"Many peopleand especially the young, undergo emotional suffering through not being able tosort out their problems without some support.
Medication relieves anxiety andstress, but does not get to the root of the problem like 'the talking cure'."
Information
Format:

Paperback / softback

Pages:

224 pages

Publisher:

Troubador Publishing

Publication Date:

09/08/2018

Category: Psychotherapy
ISBN:

9781789013405
Free
Standard Delivery

Within the UK