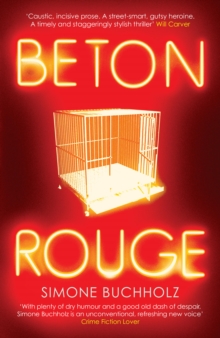 Beton Rouge
Paperback / softback
Description
Chastity Riley and her new sidekick Ivo investigate the case of newspaper executives who have been caged and tortured outside their offices ... on a trail that leads them to the hothouse world of boarding schools and some harrowing secrets... You loved Dark ... now meet Chastity Riley `Caustic, incisive prose. A street-smart, gutsy heroine. A timely and staggeringly stylish thriller' Will Carver `With plenty of dry humour and a good old dash of despair, Simone Buchholz is an unconventional, refreshing new voice' Crime Fiction Lover `Lyrical and pithy' Sunday Times Crime Club On a warm September morning, an unconscious man is found in a cage at the entrance to the offices of one of Germany's biggest magazines.
He's soon identified as a manager of the company, and he's been tortured.
Three days later, another manager appears in a similar way. Chastity Riley and her new colleague Ivo Stepanovic are tasked with uncovering the truth behind the attacks, an investigation that goes far beyond the revenge they first suspect ... to the dubious past shared by both victims. Travelling to the south of Germany, they step into the hothouse world of boarding schools, where secrets are currency, and monsters are bred ... monsters who will stop at nothing to protect themselves. A smart, dark, probing thriller, full of all the hard-boiled poetry and acerbic wit of the very best noir, Beton Rouge is both a classic whodunit and a scintillating expose of society, by one of the most exciting names in crime fiction. `Stripped back in style and deadpan in voice, this is a scintillating romp' Doug Johnstone, Big Issue `A touch of class, a superb noir' New Books Magazine `With brief, pacy chapters and fizzling dialogue, this almost feels like American procedural noir and not a translation' Maxim Jakubowski, Crime Time `There is a fantastic pace to the story which keeps you hooked from the first sentence all the way to the end.
Once again Simone Buchholz holds no punches, with a unique voice that delivers a stylish story.
Buchholz proves that you can pack an excellent crime thriller into 186 pages and engross the reader who wants more, once completed' NB Magazine `The follow-up to Blue Night is a smart and witty book that shines a probing spotlight on society' Culture Fly `Fans of Brookmyre could do worse than checking out Simone Buchholz, a star of the German crime lit scene who has been deftly translated into English by Rachel Ward' Goethe Institut `Simone Buchholz, with Rachel Ward as translator, creates in less than 200 pages the most taut, incredible intensity.
I adore her writing as it takes you into the misty half world between lyrical beauty and raw, grim necessity.
Beton Rouge is a killer read, original, unusual and yet I felt that a part of it, in fact a part of Chastity, lodged itself deeply within my soul, it's quite simply fabulous' LoveReading `Great sparkling energy, humour and stylistic verve' Rosie Goldsmith `Short chapters, snappy sentences, witty dialogue and succinct writing have created a fast-paced, "just one more chapter" read ... much more than a crime novel' Off-the-Shelf Books `A fantastic story in a unique voice' Mumbling about... `A stunning novel that ends up exploding in your face' The Last Word Book Review `The story and writing slowly seep into your soul' Books Are My Cwtches `An excellent slice of atmospheric crime' Blue Book Balloon `Deliciously dark' Segnalibro `Enveloped me like wisps of cigarette smoke' Hair Past a Freckle `Takes your breath away' Cheryl M-M's Book Blog `Refreshingly different' Bloomin' Brilliant Books
Information
Format:

Paperback / softback

Pages:

192 pages

Publisher:

Orenda Books

Publication Date:

21/02/2019

ISBN:

9781912374595
Free
Standard Delivery

Within the UK