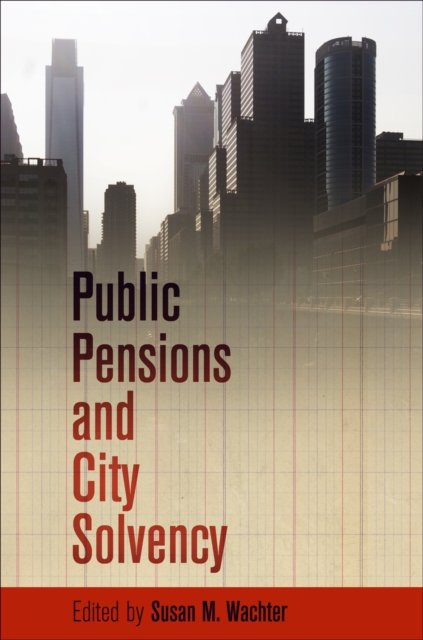 Public Pensions and City Solvency
Hardback
Description

Information

Other Formats
Description
Underfunded pension liabilities threaten the fiscal stability of many cities.
While Detroit's bankruptcy has dominated the headlines, the problem is widespread.
With ongoing battles in many localities, policymakers are increasingly turning their attention to the legacy issues surrounding the funding of pensions.
Public Pensions and City Solvency addresses this complex fiscal challenge and presents strategies to achieve financial sustainability. Writing in a direct, readable style for a professional as well as an academic audience, expert contributors provide incisive analyses and practical approaches to navigating the fiscal morass in which many cities find themselves.
Richard Ravitch, former lieutenant governor of New York, writes the Foreword and Robert P.
Inman and Susan M. Wachter provide the Conclusion. The book's three chapters examine the issue from different key perspectives: Joshua D.
Rauh, a leading scholar in the study of unfunded pension liabilities, provides an economist's perspective; Amy B.
Monahan, a renowned authority in public employee benefits law, illuminates the legal framework; and D.
Roderick Kiewiet and Mathew D. McCubbins, visionary political scientists, put the crisis and its economic and legal implications into context and lay out the necessary framework for reform. The problems that arise from underfunded public pensions are only going to escalate.
Public Pensions and City Solvency is a unique resource for decision-makers, policy-makers, and researchers and a timely addition to the evolving debate over what constitutes sustainable solutions. Contributors: Robert P. Inman, D. Roderick Kiewiet, Mathew D. McCubbins, Amy B. Monahan, Joshua D. Rauh, Richard Ravitch, Susan M. Wachter.
Information
Format:

Hardback

Pages:

120 pages, 6 illus.

Publisher:

University of Pennsylvania Press

Publication Date:

03/02/2016

Category:

ISBN:

9780812248265
Information
Format:

Hardback

Pages:

120 pages, 6 illus.

Publisher:

University of Pennsylvania Press

Publication Date:

03/02/2016

Category:

ISBN:

9780812248265