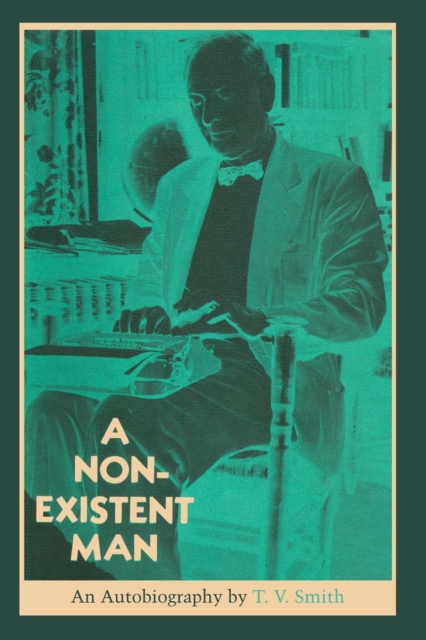 A Non-Existent Man : An Autobiography
Paperback / softback
Description

Information

Other Formats
Description
Born in a log cabin on a Texas prairie in 1890, T. V. Smith-distinguished philosopher, teacher, politician, lecturer, and editor-left an imprint on the twentieth century seldom equaled by a university professor. Simply listing his activities reveals the versatility of this extraordinary man.
He held posts as professor at Texas Christian University and the University of Texas, as professor and dean at the University of Chicago for a quarter-century, and as professor of citizenship and philosophy at Syracuse University for eight years. An independent Democrat, he spent four years in the Illinois State Senate before being elected to the U.S.
House of Representatives as congressman at large from Illinois. He served as private ("no class") in World War I; he held the rank of colonel in World War II and was a military governor with the Allied Control Commission in Sicily and Italy, was Director of Democratization for Select German Prisoners of War, and was a member of the U.S.
Education Mission to Germany and Japan. As a founder of the Chicago Round Table of the Air and one of its most frequent participants, he became one of radio's best-known personalities.
He was editor of the International Journal of Ethics, and his democratic wisdom has found expression in more than twenty books and in hundreds of articles. In open forum he often tilted with such opponents as Robert A.
Taft, Clarence Darrow, Harry Gideonse, Will Durant, and Norman Thomas.
He was an orator of national renown. He held seven degrees from as many institutions. A maverick, intellectual as well as political, Smith never feared to strike off the shackles of conventionality and dogma when they hampered his search for truth, and his stout conscience challenged all comers.
Long involvement with people of many ideas, backgrounds, and interests so permeated his thinking that his message was to and for all of America.
He spoke of actual situations that affect actual human beings, illuminating his impressions with sensitivity and understanding. T. V. Smith's story has heart and vision. It manifests, in approximately equal portions, poetic imagination, resourcefulness, limitless energy, public service, and pride.
Early in life Smith set his heart not on accumulating material possessions but on discovering how men and women of every station and degree can have the blessing of a sane and reasonable life in an increasingly complex society.
What he says here is witty and wise, "nuggets mined from the hills of life . . . the living stuff of biography, the inner essence which transcends the world of fact." In such a record lies democracy's best boast.
Information
Format:

Paperback / softback

Pages:

312 pages

Publisher:

University of Texas Press

Publication Date:

01/01/1962

Category:

ISBN:

9780292741782
Information
Format:

Paperback / softback

Pages:

312 pages

Publisher:

University of Texas Press

Publication Date:

01/01/1962

Category:

ISBN:

9780292741782