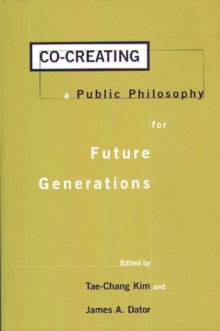 Co-Creating a Public Philosophy for Future Generations
Hardback
Description
When making decisions, governments can and should strive consciously to balance the demands of the present with the needs of future generations.
Various advocates for greater governmental foresight have created new processes or institutions within existing systems of democratic government. These include long-range planning departments, futures commissions, requirements for future-impact statements on proposed legislation, environmental protection agencies, and offices of technology assessment. But, as the contributors to this volume demonstrate, much more remains to be done. Some of the provocative questions posed by this book include: What is a public philosophy oriented to the needs of future generations necessary, and why is it necessary? What are the major examples of actual experiments in future-oriented governance?
What were their successes and failures, and the reasons for each? And finally, what are the obstacles to future-oriented governance, and how might they be overcome? The authors of the essays in this volume suggest answers based on their extensive experience in working with governments, trying to help them incorporate techniques of foresight into their institutions and practices.
Free
Standard Delivery

Within the UK