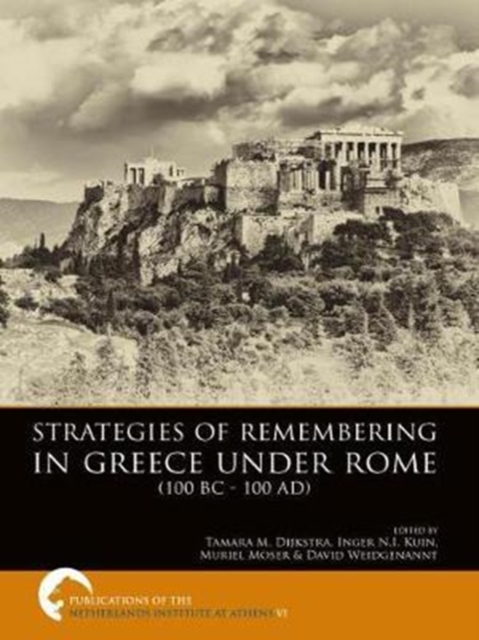 Strategies of Remembering in Greece Under Rome (100 BC - 100 AD)
Hardback
Description

Information

Other Formats
Description
At the beginning of the first century BC Athens was an independent city bound to Rome through a friendship alliance.
By the end of the first century AD the city had been incorporated into the Roman province of Achaea.
Along with Athenian independence perished the notion of Greek self-rule.
The rest of Achaea was ruled by the governor of Macedonia already since 146 BC, but the numerous defections of Greek cities during the first century BC show that Roman rule was not yet viewed as inevitable. In spite of the definitive loss of self-rule this was not a period of decline.
Attica and the Peloponnese were special regions because of their legacy as cultural and religious centres of the Mediterranean.
Supported by this legacy communities and individuals engaged actively with the increasing presence of Roman rule and its representatives.
The archaeological and epigraphic records attest to the continued economic vitality of the region: buildings, statues, and lavish tombs were still being constructed.
There is hence need to counterbalance the traditional discourses of weakness on Roman Greece, and to highlight how acts of remembering were employed as resources in this complex political situation. The legacy of Greece defined Greek and Roman responses to the changing relationship.
Both parties looked to the past in shaping their interactions, but how this was done varied widely.
Sulla fashioned himself after the tyrant-slayers Harmodius and Aristogeiton, while Athenian ephebes evoked the sea-battles of the Persian Wars to fashion their valour.
This interdisciplinary volume traces strategies of remembering in city building, funerary culture, festival and association, honorific practices, Greek literature, and political ideology.
The variety of these strategies attests to the vitality of the region.
In times of transition the past cannot be ignored: actors use what came before, in diverse and complex ways, in order to build the present.
Information
Format:

Hardback

Pages:

285 pages, 18fc/45bw

Publisher:

Sidestone Press

Publication Date:

12/12/2017

Category:

ISBN:

9789088904813
Information
Format:

Hardback

Pages:

285 pages, 18fc/45bw

Publisher:

Sidestone Press

Publication Date:

12/12/2017

Category:

ISBN:

9789088904813