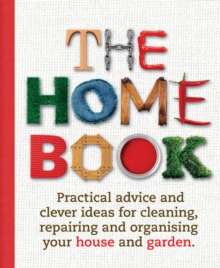 Description
What are the best ways to defeat rising damp, combat yellowing cotton and fix noisy water pipes?
How often should you pick your herbs to keep them bushy and healthy?
Full of invaluable and easy-to-follow advice for indoors and out, "The Home Book" has all the answers for you. "The Home Book" provides simple techniques for cleaning, maintaining and repairing your home.
Save money using "The Home Book's" own recipes for dishwasher, window and toilet cleaners, and follow the invaluable stain removal tips - did you know you can get rid of lipstick stains with kerosene and use milk when removing ink on cotton?
Other handy hints are great for the environment as well as your budget, such as replacing regular light bulbs with energy-efficient compact fluorescent ones, and running your fridge between 3 C and 5 C to reduce electricity costs.
Tips on growing herbs, container gardening, making your own straw compost and tending a worm garden will guarantee you get the best out of your outdoor space, whether it's a garden, backyard or apartment balcony. Every home, no matter how big or small, will benefit from this book that is packed with clever ideas, practical information and helpful hints, "The Home Book" is an indispensible DIY manual.
Key points: includes hundreds of projects for around the home and garden to keep it clean and functioning; all clever tips that you wish you had learnt from your grandparents; covers a broad range of household tips, from cleaning, stain removal and do-it-yourself repairs to basic vehicle maintenance; and, includes all the need-to-know information on how to grow a healthy and sustainable garden, both for houses and apartments; includes environmentally-aware green options.
Free
Standard Delivery

Within the UK