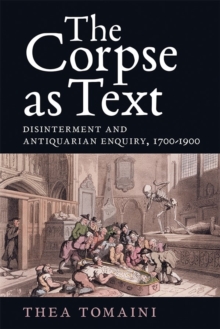 The Corpse as Text - Disinterment and Antiquarian Enquiry, 1700-1900
Hardback
Description
Between 1700 and 1900, the sixteenth and seventeenth centuries were stereotyped, idealised, and held as a standard by which the present time could be measured.
Various figures in politics, academia, and the church pointed to historical persons such as Henry VIII, Shakespeare, Charles I, and Oliver Cromwell as icons whose lives, deaths and corpses illustrated the victories of English Protestantism, the values of Monarchism (or Republicanism), and the superiority of the English culture and its language.
In particular, the subject of disinterment (exhumation) attracted the attention of antiquaries.
They constructed a comprehensive memory of the past by 'reading' corpses as documents describing an idealised past.
These 'texts' accompanied and enhanced the traditional texts of chronicle, literature, and epitaph. This study explores the cooperation of ideology and aesthetic, the paradox of allure and revulsion, and the uncanny attraction to death.
In each case there is a desire for the dead to speak in a contemporary voice; each historical personage becomes symbolic of larger aspects of the contemporary culture.
The discourse of the noble body in death is reconfigured to validate English nationalist ideals and to establish the past as a Golden Era of unimpeachable superiority.
It was not enough simply to study the lives and deaths of historical figures.
It was necessary to disinter the corpses, engage physically with the dead, and experience the discourse of validation. THEA TOMAINI is Associate Professor of English (Teaching) at the University of Southern California.
Information
Format:

Hardback

Pages:

256 pages

Publisher:

Boydell & Brewer Ltd

Publication Date:

11/04/2017

ISBN:

9781783271948
Free
Standard Delivery

Within the UK