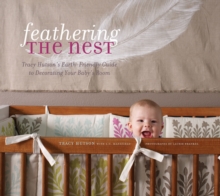 Feathering the Nest: Earth-Friendly Guide to Decorating
Hardback
Description
Tracy Hutson's role as a designer on ABC's extraordinarily popular "Extreme Makeover: Home Edition" goes beyond home design, matching specific choices to the lives of the families she assists.
On the show, Tracy sees firsthand the dramatic impact that living spaces have on the lives of the people who occupy them.
Given her enthusiasm for designing children's spaces, she lovingly customizes rooms for the younger family members.
Now, Tracy brings her passion and experience to "Feathering the Nest", making it the definitive and most accessible book on designing your child's space.
From understanding the fundamental style types to finding sources of inspiration for getting started, from essential tips on safety and environmentally friendly design to the latest information on stimulating your little one's mind, "Feathering the Nest" shares Tracy's secrets for creating unique and beautiful rooms that meet your baby's needs and reflect your individual lifestyle.
Free
Standard Delivery

Within the UK