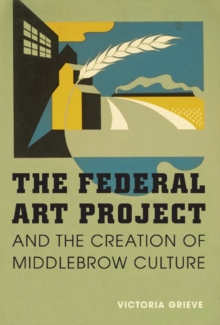 The Federal Art Project and the Creation of Middlebrow Culture
Hardback
Description
This intellectual history chronicles the processes of compromise and negotiation between high and low art, federal and local interests, and the Progressive Era and New Deal.
Victoria Grieve examines how intellectual trends in the early twentieth century combined with government forces and structures of the New Deal's Federal Art Project to redefine American taste in the visual arts.
Representing more than a response to the emergency of the Great Depression, the Federal Art Project was rooted in Progressive Era cultural theories, the modernist search for a usable past, and developments in the commercial art world in the early decades of the twentieth century.
In their desire to create an art for the \u0022common man,\u0022 FAP artists and administrators used the power of the federal government to disseminate a specific view of American culture, one that combined ideals of uplift with those of accessibility: a middlebrow visual culture.
Free
Standard Delivery

Within the UK