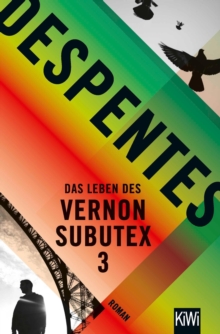 Das Leben des Vernon Subutex 3
EPUB
Click here to see our help pages on reading this eBook on your chosen device. Please note that this eBook is incompatible with Kindle eReaders. Don't forget you'll need Adobe Digital Editions, if you don't already have it.
Description
Teil 3 der Bestseller-Reihe: Die Attentate von Paris verandern alles. Im dritten und letzten Teil ihrer Vernon-Subutex-Trilogie führt Virginie Despentes ihre Figuren und die Leser in das Frankreich der Attentate vom 13.
November 2015 – und damit ins Herz eines gesellschaftlichen Traumas.
Zunächst sieht eigentlich alles geradezu idyllisch aus.
Die Gruppe um Vernon hat Paris verlassen und lebt an wechselnden Orten auf dem Land.
Dort werden sogenannte "Convergences" abgehalten, total angesagte Raves, zu denen man aber nur mit persönlicher Empfehlung zugelassen wird.
Klar, dass jeder dorthin will und "tout Paris" versucht, eine Einladung zu ergattern.
Doch auch dies ist nicht das Paradies, es gibt Misstrauen und Eifersüchteleien, die Gruppe zerfällt.
Dann kommt der 13. November 2015 – die Attentate von Paris – und die Stimmung ändert sich vollkommen. Jede der Figuren ist in irgendeiner Weise – direkt oder indirekt – betroffen von den Ereignissen.
Jede muss für sich versuchen einen Weg zu finden, damit umzugehen.
Und natürlich führen diese Wege am Ende nicht alle in dieselbe Richtung.
Mit enormem Einfühlungsvermögen und einer persönlichen Betroffenheit, die aus jeder Zeile spricht, erweist sich Virginie Despentes einmal mehr als brillante, scharf analysierende Chronistin unserer Zeit und als begnadete Erzählerin. "Macht süchtig wie eine gute TV-Serie" Antje Deistler, Deutschlandfunk"Der Gesellschaftsroman unserer Zeit" Volker Weidermann im Literarischen Quartett
Information
Format:

EPUB

Publisher:

Kiepenheuer & Witsch eBook

Publication Date:

07/09/2018

ISBN:

9783462318821