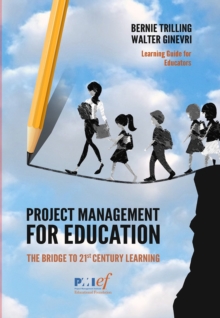 Project Management for Education : The Bridge to 21st Century Learning
Paperback / softback
Description
This unique book is for two audiences! Read one way it is for educators; flip it over and read the other way it is for project managers!
These days, everybody seems to be talking about "21st century skills" and how our students need new ways of learning if they hope to succeed in life.
In recent years, changes in how work is done have rapidly shifted society's demands.
What today's students need to succeed in their future work, family, and civic lives is dramatically different from what previous generations learned in school.
But what are 21st century skills and how can educators bring them to students?
The easiest answer is: by turning to the processes and principles that the field of project management has been utilizing for decades-skills such as critical and creative thinking, problem solving, effective communication, collaboration, self-motivation, persistence, and a lifelong passion for learning.
These essential 21st century skills and mindsets, already part of daily life for project management professionals, are exactly what modern students need to learn in order to succeed.
Project based learning (PBL), a set of engaging and powerful learning methods organized around motivating projects, is one of the most popular ways to bring the skills used by project management into students' educational experience, giving them amazing opportunities to develop the essential 21st century competencies they need.
In Project Management for Education: The Bridge to 21st Century Learning, authors Bernie Trilling and Walter Ginevri provide a "two-in-one" guide for educators and project management professionals, demonstrating how the two fields can work together.
By teaming up to enrich the experience of students, both educators and project management professionals can continue to develop their own skills and better meet the challenges they face in our ever-changing world.
Free
Standard Delivery

Within the UK