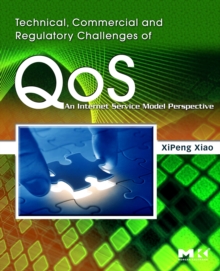 Technical, Commercial and Regulatory Challenges of QoS : An Internet Service Model Perspective
Hardback
Information

Description

Other Formats
Description
Technical, Commerical and Regulatory Challenges of QoS provides a comprehensive examination of Internet QoS theory, standards, vendor implementation and network deployment from the practitioner's point of view, including extensive discussion of related economic and regulatory issues.
Written in a technology-light way so that a variety of professionals and researchers in the information and networking industries can easily grasp the material.
Includes case studies based on real-world experiences from industry. The author starts by discussing the economic, regulatory and technical challenges of the existing QoS model.
Key coverage includes defining a clear business model for selling and buying QoS in relation to current and future direction of government regulation and QoS interoperability (or lack thereof) between carriers and networking devices.
The author then demonstrates how to improve the current QoS model to create a clear selling point, less regulation uncertainty, and higher chance of deployment success.
This includes discussion of QoS re-packaging to end-users; economic and regulatory benefits of the re-packaging; and the overall benefits of an improved technical approach.
Finally, the author discusses the future evolution of QoS from an Internet philosophy perspective and lets the reader draw the conclusions. This book is the first QoS book to provide in depth coverage on the commercial and regulatory aspects of QoS, in addition to the technical aspect.
From that, readers can grasp the commercial and regulatory issues of QoS and their implications on the overall QoS business model.
This book is also the first QoS book to provide case studies of real world QoS deployments, contributed by the people who did the actual deployments.
From that, readers can grasp the practical issues of QoS in real world.
This book is also the first QoS book to cover both wireline QoS and wireless QoS.
Readers can grasp the QoS issues in the wireless world.
The book was reviewed and endorsed by a long list of prominent industrial and academic figures.
Information
Format:

Hardback

Pages:

296 pages

Publisher:

Elsevier Science & Technology

Publication Date:

27/10/2008

Category:

ISBN:

9780123736932