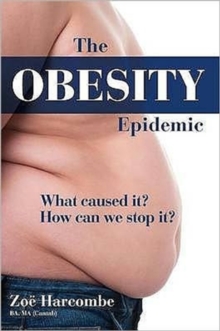 The Obesity Epidemic : What Caused It? How Can We Stop It?
Hardback
Description
"The Obesity Epidemic: What caused it? How can we stop it?" does what it says in the title - it answers those two critical questions.
It takes you on the journey that the author, Zoe Harcombe went on to answer those questions and hopefully it will shock you as much as it shocked her.
The starting point must be - when did The Obesity Epidemic start?
The graphs and tables show a stunning increase in obesity levels at the turn of the 1980's and obesity literally takes off, like an aeroplane trajectory, from that point onwards.
Obesity in the UK, as an example, increases almost 10 fold between the 1970's and 1999 from 2.7% to 25%.
So what happened? The short answer is - we changed our diet advice. More accurately we did a U-turn in our diet advice. We used to believe (and our grandmothers still do) that bread and potatoes were fattening and we should put butter on our vegetables.
We changed this completely to tell citizens of the 'developed' world to base our meals on starchy foods and to replace nature's butter with man-made hydrogenated spreads.
Coincidence or cause?The Obesity Epidemic takes you through the actual documents that changed our diet advice, most importantly why the advice changed and what is stopping us from changing the advice back.
This is a journey through the landmark turning points in the history of public health diet advice and the impact that this has had on obesity - and all the accompanying modern illnesses: heart disease; cancer; diabetes and the lack of well being that the average human suffers today.
If you currently believe that "energy in equals energy out" - be prepared to change your view, if you read this book with an open mind.
If you think one pound equals 3,500 calories, you may be in for a surprise.
If you assume that you will lose one pound for every deficit of 3,500 calories you create, you will see irrefutable evidence to the contrary.
You will understand where five-a-day comes from and will hopefully revise your adherence to this marketing slogan afterwards.
You will hopefully be shocked and appalled at the conflict of interest in the food and obesity industries.
You may never drink fruit juice again. With 400 references and every fact backed up with sourced and presented evidence - this is the most informative book on the subject of obesity ever written.
You cannot fail to learn a great deal and to have your thinking continually challenged in a highly engaging way.
The research for this book changed everything the author held to be true - read with an open mind - it could do the same for you.
Love it or hate it, you have to read it.
Information
Format:

Hardback

Pages:

336 pages, Illustrations

Publisher:

Columbus Publishing Ltd

Publication Date:

01/10/2010

Category: Public health & preventive medicine
ISBN:

9781907797002
Free
Standard Delivery

Within the UK