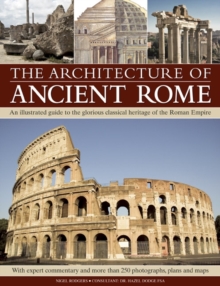 The Architecture of Ancient Rome : An Illustrated Guide to the Glorious Classical Heritage of the Roman Empire
Hardback
Description
This is an illustrated guide to the glorious classical heritage of the Roman Empire.
It is an informative history of Roman architecture with over 250 photographs, drawings, diagrams and cross-sections.
You can examine the great buildings that define the Roman Empire, from amphitheatres, libraries and aqueducts to magnificent palaces and temples.
You can discover how the architectural legacy of the Romans influenced the development of classical architecture, from the Renaissance to post-modern classicism.
It features cutaways and reconstructions of the Colosseum, the Pantheon and other World Heritage buildings.
Building and technical terminology is fully explained, from barrel vaults to concrete facings.
Consultant Dr Hazel Dodge FSA is an expert on all aspects of Roman construction and building technology.
It is created some 2,000 years ago, the buildings of ancient Rome continue to influence architects today.
This book covers the art and architecture of Rome's vast empire.
It detailed drawings of the Colosseum, the Pantheon and other World Heritage buildings reveal Roman techniques and architectural styles. Major public buildings, from the Forum Romanum to the Colosseum and the Pantheon are carefully described.
The Romans built lavishly across their empire, founding or refounding magnificent cities like Carthage and Petra.
You can discover the wonders of Roman architecture, from the city of Rome itself to Palmyra and Pompeii, with 250 illustrations and an authoritative text.
Free
Standard Delivery

Within the UK