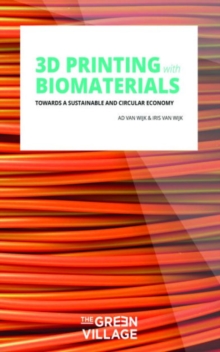 3D PRINTING WITH BIOMATERIALS
Spiral bound
Description
Towards a Sustainable and Circular Economy. Additive manufacturing or 3D printing, manufacturing a product layer by layer, offers large design freedom and faster product development cycles, as well as low startup cost of production, on-demand production and local production.
In principle, any product could be made by additive manufacturing.
Even food and living organic cells can be printed. We can create, design and manufacture what we want at the location we want. 3D printing will create a revolution in manufacturing, a real paradigm change.3D printing holds the promise to manufacture with less waste and energy.
We can print
Free
Standard Delivery

Within the UK